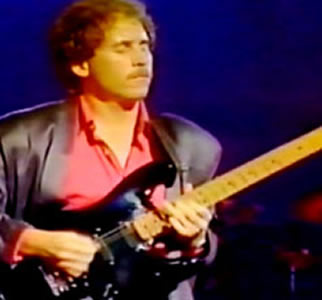 Photo courtesy Richard Lunetta and Garth Webber
Background before joining Miles: Played with Robben Ford, Greg Allman, Boz Scaggs, John Lee Hooker, local bands.
How he got the Miles gig: Recommended by Robben Ford.
Played from: September 1986 – December 1986
Official albums and DVDs featured on: None
Tracks worth checking out: N/A
Webber on Miles: "He was very bright and intense and liked to play around with people…Once when I was soloing with my eyes closed, I felt something on my foot. I opened my eyes and there was Miles two inches from my face with those big sunglasses on, standing on my foot!"
Comments: Webber is a much under-rated player, who fitted well into Miles's band and proved to be a fine blues player. Sadly, his performances are so far only available on bootlegs.
Website: www.garthwebber.com