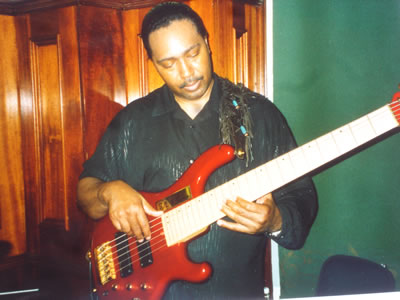 Felton Crews © George Cole
Background before joining Miles: Played in bands around Chicago, including a couple that included drummer Vince Wilburn Jr.
How he got the Miles gig: Crews was one of the four young Chicagoan musicians who played on The Man With The Horn album, so was known by Miles. He was recommended for the band by Vince Wilburn Jr.
Played from: March 1986 – October 1986
Official albums and DVDs featured on: The Man With The Horn, The Complete Miles Davis at Montreux, Rubberband, Live At Montreux – Highlights 1973-1991 (DVD), The Definitive Miles Davis at Montreux (DVD), Perfect Way: The Miles Davis Anthology – The Warner Bros. Years, Complete Columbia Album Collection, The Perfect Miles Davis Collection, Tutu: Deluxe Edition, The Last Word.
Tracks worth checking out: "Shout," and live versions of "Maze," "Wrinkle," "Splatch," "Al Jarreau," "Portia."
Crews on Miles: "Miles' direction was usually cleaning up individual bad habits, but for the most part, we had freedom of expression."
Comments: Robert Irving III, Miles's long-time musical director, feels that Crews was under-rated and even under-appreciated by Miles, and Crews is indeed an excellent bassist.
Website: www.feltoncrews.com