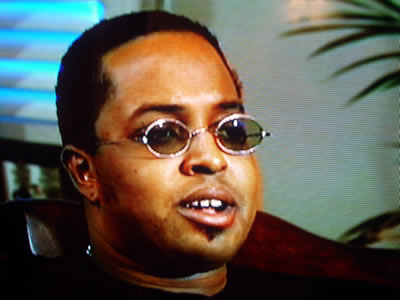 Erin Davis Photo courtesy and © Dibb Directions
Background before joining Miles: Was a roadie for Miles (Erin is Miles's youngest son).
How he got the Miles gig: Was asked by Miles to join the band, which he did with some reluctance.
Played from: June 1990 – November 1990
Official albums and DVDs featured on: Live Around The World, The Complete Miles Davis At Montreux, Live At Montreux – Highlights 1973-1991 (DVD), The Definitive Miles Davis at Montreux (DVD), Miles Davis 1986-1991: The Warner Years, The Last Word.
Tracks worth checking out: "Wrinkle," "Tutu," "Carnival Time"
Davis on Miles: "I did a summer tour…and I did a fall tour…and that was enough for me!"
Comments: Erin Davis's first instrument is the drums and he was never entirely comfortable playing electronic percussion. However, he was part of a formidable rhythm section that included Richard Patterson on bass and Ricky Wellman on drums. He was also the last percussionist in a Miles Davis band.
Website: None.
[The picture of Erin Davis was taken from The Miles Davis Story DVD directed by Mike Dibb, which includes an interview with Erin Davis.]