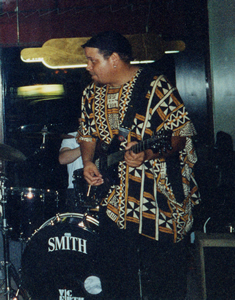 © and photo courtesy Adam Holzman
Background before joining Miles: Played in bands around Chicago.
How he got the Miles gig: Was recommended by Broom as a substitute when Broom found that a Miles gig clashed with some dates he was doing with Kenny Burrell's Jazz Guitar Band.
Played from: One date – 27 March 1987
Official albums and DVDs featured on: None
Tracks worth checking out: N/A
Burroughs on Miles: "Miles came up to me in the middle of the show when we were playing an uptempo number and he whispered: 'Play one or two notes." I was excited and probably busier than the soloist I was accompanying! That's all he said to me and it's affected me ever since."
Comments: Burroughs was given a tape to learn the music and had no time for rehearsals. He met Miles for the first time as they went on-stage! Several days after playing the gig, Burroughs was invited to join Miles's band on the next tour, but he later discovered that Miles had recruited Foley as his new guitarist.
Website: None