A look at many of the major personal and musical events from Miles's final years
Choose a timeline date:
1979 :: 1980 :: 1981 :: 1982 :: 1983 :: 1984 :: 1985 :: 1986 :: 1987 :: 1988 :: 1989 :: 1990 :: 1991
1981
January: Miles goes into the studio with Barry Finnerty (guitar) and Sammy Figueroa (percussion) and overdubs on some the Chicago Band's tunes. Miles recruits drummer Al Foster and bassist Marcus Miller, who join Miles, Evans, Finnerty and Figueroa in the studio to record several tracks.
March: Miles replaces Barry Finnerty with Mike Stern.
Spring: Miles decides to go out on the road with his studio band, except for Figueroa, who is replaced by Mino Cinelu.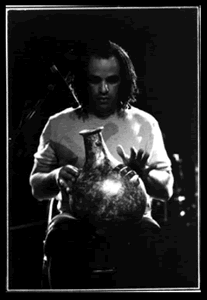 Mino Cinelu Photo courtesy and © Marjolaine Sebagh and Mino Cinelu
June 26-29: Miles plays his first gigs at Kix club in Boston.
July 5: Miles's official comeback concert at the Kool Jazz Festival at New York's Avery Fisher Hall.
Summer: Miles tours the US.
August : Miles begins playing "Jean-Pierre" in concerts.
Autumn: Miles's comeback album, The Man With The Horn is released.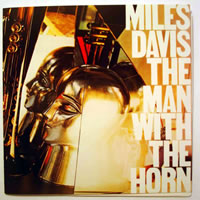 The Man With The Horn
September 29: Miles and band fly to Japan for a series of concerts.
October 2- 11: Miles plays a series of concerts in Japan. During the tour, Miles develops pneumonia and soon after, is diagnosed with diabetes.
October 17: Plays on the US show Saturday Night Live.
November 26: Marries actress Cicely Tyson – his third wife.
Choose a timeline date:
1979 :: 1980 :: 1981 :: 1982 :: 1983 :: 1984 :: 1985 :: 1986 :: 1987 :: 1988 :: 1989 :: 1990 :: 1991