A look at many of the major personal and musical events from Miles's final years
Choose a timeline date:
1979 :: 1980 :: 1981 :: 1982 :: 1983 :: 1984 :: 1985 :: 1986 :: 1987 :: 1988 :: 1989 :: 1990 :: 1991
1980
Early: Miles hears a track played by his young nephew's group in Chicago and decides he wants to record it with them.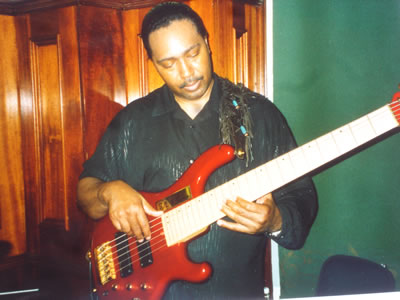 Felton Crews © George Cole
April-June: Miles's nephew, drummer Vince Wilburn Jr, plus three other band members, Randy Hall (guitar), Robert Irving II (keyboards) and Felton Crews (bass) fly to New York to work with Miles. They are joined by a young saxophonist Bill Evans. The band rehearses with Miles and spends around 60 hours in the studios recording backing tracks – Miles does not play on them.
Summer – end of year: Miles spends the time resting and recovering.
Choose a timeline date:
1979 :: 1980 :: 1981 :: 1982 :: 1983 :: 1984 :: 1985 :: 1986 :: 1987 :: 1988 :: 1989 :: 1990 :: 1991