The eleventh in a series of reports on Miles's live gigs from 1981-1991 that I attended or have seen on video.
Venue: Congress Hall, Warsaw, Poland
Date: 23rd October 1983
This concert has long been a favourite of Miles's fans of the 1980s and the great news is that it's finally available on both CD and DVD in good quality recordings. Back in 1983, the winds of the cold war were blowing strongly across Europe and it was rare for top American artists to venture behind The Iron Curtain. Trust Miles to be one of them. When Miles published his autobiography in 1989, he had warm words to say about this concert. The concert took place on the 23 October and not the 13 October as listed on both the CD and DVD cases. It was a time when Miles had released the Star People album and just finished recording the Decoy album (the last tracks were recorded in September 1983).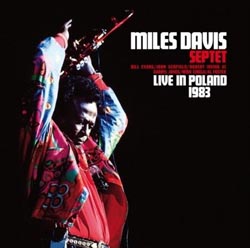 Live In Poland CD cover
Live In Poland DVD cover
It was also a time when Miles's band was in a state of flux. Established players such as saxophonist Bill Evans, drummer Al Foster, percussionist Mino Cinelu and guitarist John Scofield (although at this time, he had been in the band less than a year) were joined by newcomers Robert Irving III (who joined in August 1983) and bassist Darryl Jones (who came onboard in June 1983). The following month, Evans and Cinelu would leave the band (although Cinelu would re-join in 1987). No surprises then, that the set was dominated by music from both Star People and Decoy, although the music from the latter would be new to the audience for obvious reasons.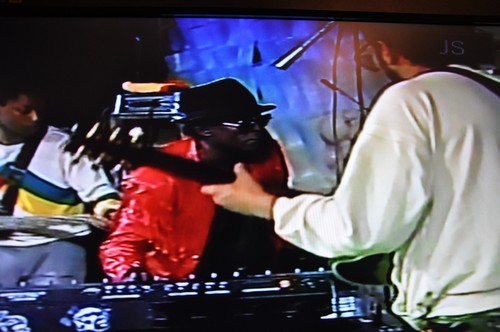 Darryl Jones, Miles, John Scofield
The Congress Hall was packed and people were squeezed into every available space, including both sides of the stage and even on the ledges in front of the balconies! Miles, as ever, looks cool, dressed in a black shirt, short red leather jacket and hat. Most of the music is in the jazz-funk vein and Jones and Scofield are given lots of solo space. Bill Evans spends a lot of the time standing on the sidelines and it's no surprise that he would decide that it was soon time to move on. That said, Evans solos on soprano sax on "What It Is" and on tenor sax on "It Gets Better." In fact, everyone but Foster and Irving gets a solo spot, including Cinelu, who does his party trick of sitting aside an upturned conga drum and using both hands and feet to play it.
One of the best tunes is a near 17-minute version of the bluesy number from Decoy, "That's Right." Scofield plays a long solo that sweeps and soars. Miles also plays well, and often alternates on this number (and others) between trumpet and an Oberheim OB-Xa synthesiser – he occasionally plays both at the same time. Al Foster smiles broadly while keeping a steady beat, while Robert Irving adds textures to the sound – Miles once said that if you can hear Irving, he was playing too loud; you were supposed to feel him and that's certainly the effect in this concert.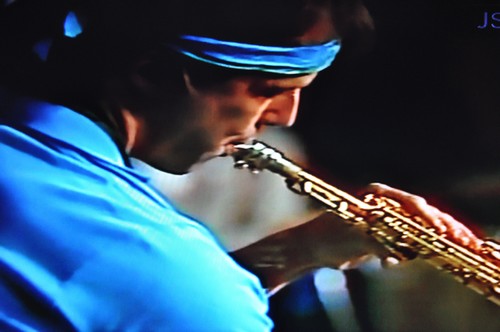 Bill Evans
Miles and Jones have lots of friendly exchanges and Jones alternates between a Fender Jazz bass and Steinberger headless bass – the latter is used to good effect on "Code MD". The band also plays "Star On Cicely" at a slower tempo to the version on Star People before moving onto the concert closer "Jean-Pierre". At the end, the audience cheer loudly and Miles is handed a bouquet of flowers from someone near the front of the stage. Then the band exits, leaving the crowd to clap and shout: "We Want Miles!" The band returns for three encores. The first is a tune that Jan Lohmann (and the CD and DVD publishers) has called "Unknown S". It begins as a mid-tempo tune with Evans (on flute) and Scofield playing the melody, before the tempo quickens and Jones plays a long bass solo, using both fingered and slap bass. The final two tracks are the same number (!) "Speak" which is played twice with two different arrangements. Then it's over. Jones takes a few souvenir snaps of the audience before leaving the stage.