The third in a series of reports on Miles's live gigs from 1981-1991 that I attended or have seen on video.
Venue: Royal Festival Hall, London, first concert
Date: 17 July 1984
My second Miles Davis concert and one that took place at one of my most favourite venues. Such was the demand for tickets that I could only get a seat for the matinee concert, which was also sold out The good news was that I would get home earlier (I lived 70 miles away from London) but the bad news was that the concert would be shorter than the evening performance. Even so, it was good to be seeing Miles again and part of the concert would be broadcast on radio.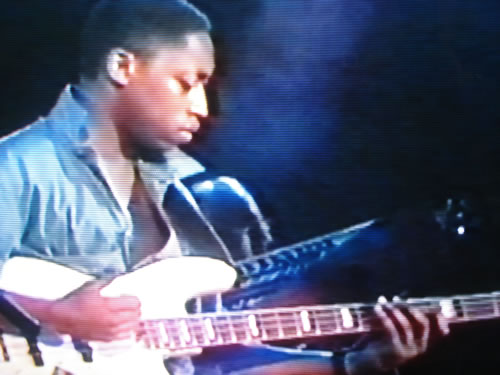 Darryl Jones
There were quite a few changes to the band from the previous year, with Bill Evans, Mike Stern, Mino Cinelu and Tom Barney no longer in the current line-up. In their places were Bob Berg, John Scofield (who had played with Stern in the previous band), Steve Thornton and Darryl "The Munch" Jones. The latter especially intrigued me as he looked so young (in fact, he was only twenty two). The entire band was dressed casually; Miles wore a sailor's cap and sports jacket, while Jones was wearing a blue boiler suit. The band started with a roaring version of "Speak" and it was soon clear that Berg was a superb musician, Jones was a formidable bassist and Miles's chops were definitely on the up. As usual, this segued into "Star People" and Miles really stretched out on this number and was clearly pushing himself to the limit (in some cases, cracking notes). Scofield played with great subtlety and sensitivity and Jones demonstrated that he can play blues as well as hard funk (I later found out that when Miles auditioned Jones he asked him to play a B-flat blues, real slow).
This was followed by a fast and furious rendition of "What It Is," from the newly released Decoy album, which had Foster powering away behind his drum kit. Then there were just three more tunes left. One of these was a big surprise – Cyndi Lauper's "Time After Time," and I remember groaning inwardly and wondering what the heck was Miles doing covering this song? Now we all know and I must say that out of all the times Miles played "Time After Time" I find the versions he played in 1984 the most moving, not least because of the sorrowful sound Miles gets from his trumpet and John Scofield plays with such feeling.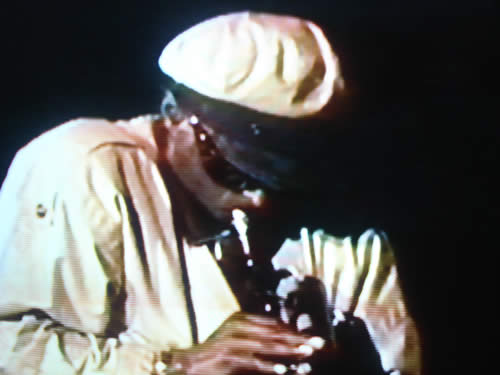 Miles 1984
Then came "Hopscotch", a funk workout that broke down in the middle, where Thornton played a short solo on conga, followed by Jones's solo. Jones used a fuzz pedal and also looped a phrase so that it played repeatedly through the PA system while he soloed over it. I was amazed at his virtuosity and so evidently was Miles, who would give his young bassist lots of solos during live performances. By this time, Miles had basically abandoned the material from his first two comeback albums, The Man With The Horn and We Want Miles, the exception being the opening number and the closer, "Jean-Pierre." The concert lasted little more than an hour and there was no encore, which was disappointing, but understandable as they would be doing all again soon. I remember leaving the concert hall and wishing I was going to be back for the second performance.
If you have any memories of Miles's gigs from 1981-1991, why don't you tell us about it?! All reports will be put online for other Miles fans to share. Email