The ninth in a series of reports on Miles's live gigs from 1981-1991 that I attended or have seen on video.
Venue: Le Zenith, Paris
Date: 3rd November 1989
Miles played at the 10th anniversary of the Paris Jazz festival and his performance was broadcast on French radio and part of the concert was also released on video and DVD. This was a curious time for Miles's band. Although by then Miles had a core band of Kenny Garrett (sax), Benny Rietveld (bass), Ricky Wellman (drums) and Foley (lead bass), he was swapping and switching keyboardists and percussionists. For this gig, there was a single keyboardist, the Japanese virtuoso Kei Akagi — in previous Miles bands, Akagi had shared the keyboard duties with John Beasley and Adam Holzman. What's more, the percussionist in this band wasn't really a percussionist! He was a young black musician called John Bigham, whose main instrument was the guitar.
Miles kept Bigham on a retainer and his main job was to write tunes for Miles. One day, Miles asked Bigham to recommend a percussionist. Bigham recommended a friend, but when he didn't return the call, Bigham volunteered himself for the role. His main set-up consisted of electronic touch pads and samplers, which Bigham played with gloved hands. Miles set was dominated by tunes from the Tutu and Amandla albums and only three tunes from the 13-song gig were from elsewhere ("New Blues" an old concert favourite, "Carnival Time" from the abandoned Rubberband album sessions and Foley's "The Senate/Me & U").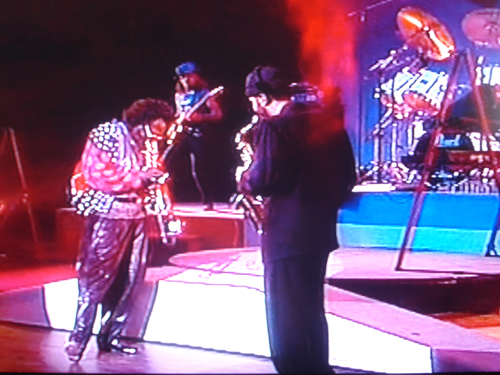 Warner Vision released the video and DVD and in the process, the concert was heavily edited — "Perfect Way," and "The Senate," "Carnival Time" and the encore "Full Nelson" were omitted, while only "Human Nature" is shown in its entirety. Some pieces, such as "Wrinkle" and "Don't Stop Me Now" are mere fragments of the full performance. All this would be bad enough, but almost every performance is interspersed with short interviews with Miles, completely ruining the atmosphere. It's a shame, because the band sounds pretty good and really gel.
The opening number on the video is "Human Nature" and a mobile camera swoops over the stage to reveal two ramps and a second circular stage. Wellman, Rietveld, Bigham and Akagi are either at the back or to the side and the main stage is dominated by Miles, Foley and Garrett. By now, "Human Nature" was a showcase for Garrett and this performance was no exception. Straight after the "Milestones" vamp which marked the start of Garrett's solo, the saxophonist begins to play slowly. But there seems to be a problem and Garrett speaks into Miles's ear. Miles says something and instead of retreating to the keyboard, as he normally did at this stage, he remains next to Garrett, holding the bell of his trumpet close to Garrett's alto sax. It was only later we learned that Garrett's wireless microphone had failed and so Miles was sharing his.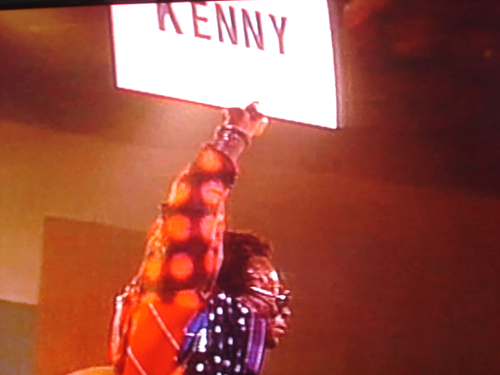 Garrett plays an explosive solo and as he ends, he slowly retreats from Miles's trumpet to create a fade-out effect. The band continues playing the vamp and then a blast of Miles's trumpet draws the song to an end. Then, Miles goes to the drum riser and selects a white board. He holds it aloft and reveals the name "Kenny." For some, this act of showmanship illustrated that Miles had become an MOR entertainer, but Miles did it because he had a dark sense of humour. Another controversial issue was that the music was much more tightly arranged at this stage. But the snippets of other songs we get show the band in good light: Akagi plays an impressive solo on "Amandla" (which is cut) while Miles, Foley and Bigham play solos on "Tutu." "Wrinkle" highlights the fast, furious drumming of Wellman. On "New Blues" Miles plays powerfully.
This was very much a band in transition and by early 1990, Rietveld and Bigham had gone, to be replaced by Richard Patterson and Miles's youngest son Erin respectively. As ever, Miles was shuffling the pack and searching for the band that sounded the way he wanted it to sound.
If you have any memories of Miles's gigs from 1981-1991, why don't you tell us about it?! All reports will be put online for other Miles fans to share. Email