The eighth in a series of reports on Miles's live gigs from 1981-1991 that I attended or have seen on video.
Venue: Philharmonie, Gasteig, Munich
Date: 10th July 1988
When Miles first went back on the road in June 1981, his band had no idea what they were going to play. Rehearsals had been almost non-existent and there was no set list. On stage, you never knew what was coming next. The performance was one of complete spontaneity and improvisation. But gradually, Miles's performances became more structured. In 1983, keyboardist Robert Irving III joined the band as the musical director and so performances were arranged and rehearsed, although Miles would always spring lots of surprises on the night.
Miles's studio albums influenced his live act and none more so than the Marcus Miller-produced Tutu and Amandla albums. These were highly arranged and Miles decided that he wanted a similar sound on-stage. The result was that by mid-1986, Miles's music was becoming more tightly arranged and more highly organised. So much so, that some band members (including Robben Ford and the late Bob Berg) felt somewhat stifled. By 1988, the arrangements were even tighter. But it would be wrong to suggest that Miles left no room for band members to express themselves. Bassist Benny Rietveld – who played with Miles between 1988 and 1990 – agrees that the music was highly arranged, but adds that there was still room for the musicians to improvise and express themselves within this tight framework. This performance proves him right.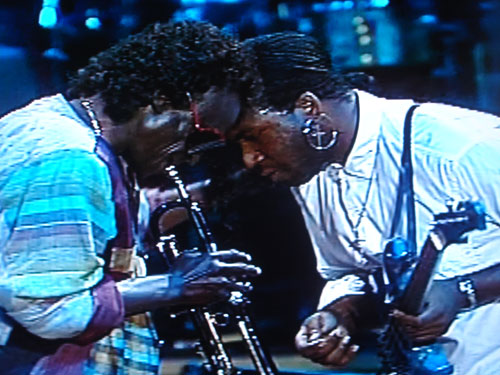 The concert was recorded by German TV and is available on DVD. At the time, Miles' band comprised of Miles on trumpet and keyboards; Foley lead bass; Robert Irving III and Adam Holzman keyboards; Kenny Garrett saxophone and flute, Benny Rietveld bass, Ricky Wellman drums and Marilyn Mazur on percussion – Mazur had originally joined Miles's band in 1985 and left the following year. She re-joined in spring 1988. This was also Irving's last European tour with Miles, after playing with Miles for more than five years, he would leave in October 1988.
The concert took place in a large concert hall with the audience facing both the front and the back of the band. The concert opener "Perfect Way" played at a brisk pace and having more depth to it than the version that appears on Tutu. The band was in fine form and Miles seemed to be in a good mood, occasionally exchanging friendly asides to members of the band. Miles's playing was strong and he played for long stretches on open horn.
But the most telling thing was how each band member was given a lot of space to stretch out. Kenny Garrett, for example, plays long explosive solos on both "Human Nature" and "Tomaas." Marilyn Mazur plays a solo on "Tutu" that includes dancing at the front of the stage with an African talking drum and bells around her ankles. Later on, she and Wellman play a superb four-minute percussion duet on the tune "Heavy Metal Prelude" and Wellman also solos on "Carnival Time." Benny Rietveld gets to stretch out on "Me & U," while both Holzman and Irving play solos on portable keyboards strung around their shoulders on "Splatch" – Garrett plays baritone sax on this piece.
Foley gives a fiery performance on "Heavy Metal," standing at the front of the stage and sounding more like rock guitarist than a bass player. He immediately follows this with some fine melodic playing on the Toto tune "Don't Stop Me Now," sitting down at the front of the stage while doing so. The whole performance sounds tight but never feels restricted – the band is really on form. I've watched this performance many times on DVD, and about the only thing that could better it, would to have actually been there in the audience on the night.
If you have any memories of Miles's gigs from 1981-1991, why don't you tell us about it?! All reports will be put online for other Miles fans to share. Email