The fifth in a series of reports on Miles's live gigs from 1981-1991 that I attended or have seen on video.
Venue: Hammersmith Odeon, London
Date: 30th June 1990
Apart from a few visits in 1982, 1983 and 1986, Miles spent almost all of the 1980s playing at the Capital Radio/London Jazz Festival, held at the Queen Elizabeth Concert Hall in South London. But this gig saw Miles returning to the Hammersmith Odeon, which was more like a theatre than a performance hall. Miles had a pared down group, with just one keyboardist, Kei Akagi, as well as Kenny Garrett on saxophone, Foley lead bass, Richard Patterson bass, Ricky Wellman drums and Miles's youngest son Erin on electronic percussion.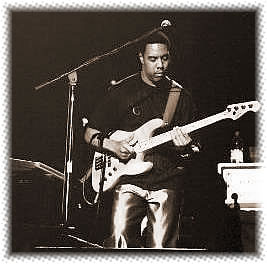 Richard Patterson © and courtesy Richard Patterson
As usual, the band kicked off with a storming version of "Perfect Way," which saw newcomer bassist Richard Patterson (he joined Miles's band earlier that year and this was his first visit to the UK) demonstrating his prowess with a tight call-and-response section with Miles. This was followed by "New Blues", a long, slow number in which Miles didn't seem that comfortable playing. In fact, this was very much the characteristic of the evening: everyone seemed to be walking on eggshells and Miles looked moody and bad-tempered (at one stage, he was visibly annoyed with Kenny Garrett, who was taking longer than Miles wanted to get in position to play saxophone). The whole performance was lacklustre and even normally exciting numbers such as "The Senate/Me And You" and "Human Nature" lacked their spark and energy. During "Tutu," Erin Davis got to play a solo which didn't seem to be developing and so Kai Akagi added some percussive samples on his keyboard in an effort to support him. To be fair, Erin Davis has admitted that he never felt entirely comfortable playing percussion.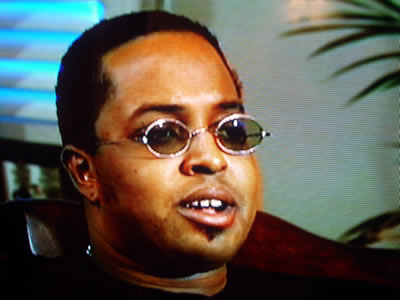 Erin Davis © and courtesy Dibb Productions
That said, I've heard a radio recording of the same band playing in Singen in Germany a couple of weeks later and it was like listening to another group: they were so tight and the rhythm section crackled and fizzled. Maybe the band simply needed another couple of weeks to gel, but I just felt that on the night, the playing was flat. I remember at the end of the show getting up from my seat and thinking "I hope Miles doesn't die, because I'd hate this to be the last performance of his I ever see." Fortunately it wasn't, and Miles would return for one more UK performance shortly before he died – and that was a great night.
If you have any memories of Miles's gigs from 1981-1991, why don't you tell us about it?! All reports will be put online for other Miles fans to share. Email