My fourth set of book reviews that cover Miles's 1980's period.
You can also read
Part 1 of my Miles Book Reviews
Part 2 of my Miles Book Reviews
Part 3 of my Miles Book Reviews
Review of No Picture! by Shigeru Uchiyama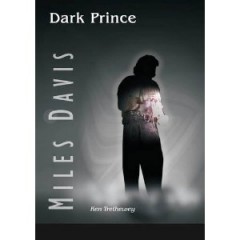 Ken Trethewey: Miles Davis: Dark Prince (2011)
This recently published book is by Ken Trethewey, writer and publisher of the Jazz- Fusion series of books – other subjects have included Herbie Hancock and John McLaughlin. You can get more information at the Jazz Fusion website
This book has more than 350 pages, with the last 100 or so devoted to highly detailed CD and DVD discographies, plus session and musician information. Dark Prince is not a biography, although Trethewey does cover many aspects of Miles' life and personality, especially in the summary chapter. The main focus of the book is to examine Miles's vast musical output, from his first session in 1945 to the famous concert in Paris in July 1991 (see this month's gig section).
Trethewey not only provides much musical analysis, but he holds strong opinions, which are clearly expressed in print – he even includes star ratings. Refreshingly, Trethewey is a fan of Miles' 1980s music, for example, he rates the Tutu album very highly. However, he only gives the Decoy album one star! It's disappointing that Trethewey doesn't cover several albums from Miles' 1980s period, including Siesta, Dingo and Doo-Bop, although he does include some unofficial albums.
Verdict: A thought-provoking book that will have you nodding your head vigorously in agreement on one page, and shaking it in violent disagreement on another. In fact, it's exactly the kind of book Miles would have approved of.
Availability: Available as both a book and a Kindle download from Amazon UK and Amazon US
Note: if you want to buy the paperback, you should go to Amazon UK Marketplace
and order it directly from Jazz Fusion books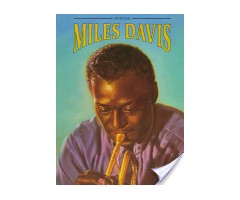 Ron Frankl: Miles Davis (1996)
This book isn't well known, which is a pity, because it's a good read. It's part of the Black Americans of Achievement series and is just 126 pages in length. But in just a relatively small number of pages, Ron Frankl manages to provide an excellent summary of the life and works of Miles Davis. There are lots of good photographs too. Frankl gives a fair summary of Miles' 1980s music, and his book contains one of my all time favourite quotes about Miles: "For Miles Davis, music was a lifelong journey, with no final destination. He never ran out of ideas; he just ran out of time in which to realise them."
Verdict: A concise and excellent summary of the life and music of Miles Davis
Availability: Not in print but you should be able to pick up a new or used copy from Amazon UK and Amazon US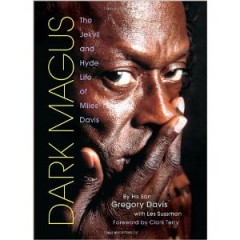 Gregory Davis: Dark Magus – The Jekyll and Hyde Life of Miles Davis (2006)
I had high hopes about this book. Gregory Davis is Miles' eldest son and has rarely been interviewed or mentioned much in all the books I've read about Miles. Sadly, my hopes were soon dashed when I realised the main purpose of this book: for Gregory Davis to vent his anger over being cut out of Miles' will. There are few new insights, various errors, and the text is peppered with phrases like, "I think it was," "Someone told me," and "I heard that." A shame, because even a detailed description of a typical day in life of the Miles Davis household would have been a good read.
Verdict: A disappointing book with few new insights.
Availability: Available as both a book and an audio book from Amazon UK and Amazon US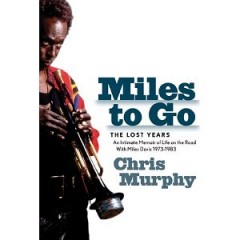 Chris Murphy: Miles to Go – The Lost Years (2002)
If you're looking for a new angle on Miles Davis, then Chris Murphy's book provides it. Murphy was part of Miles' road crew between 1973-1983, and later became his road manager. Murphy worked closely with Miles' road manager Jim Rose and there are lots of tales about Miles both on and off the road, along with some photos from Murphy's personal collection. Murphy admits that during his time with Miles, he consumed quite a few chemical substances, and as a result, his memory of certain events is less than accurate. Even so, it's worth reading, and it includes interviews with Mark Allison, who was Miles' stage manager, and Ron Lorman, Miles' sound engineer.
Verdict: Provides an interesting new angle on life with Miles Davis.
Availability: Available as both a book and an audio book from Amazon UK and Amazon US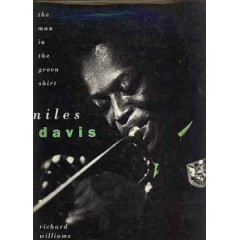 Richard Williams: The Man in the Green Shirt (1993)
Richard Williams is one of the best music writers around, although these days, he tends to write more about sport. That said, not so long ago, Williams published The Blue Moment, a book on the impact of Miles' classic album Kind of Blue. The Man in the Green Shirt is a large-sized book, which covers all of Miles' life and is packed full of superb photographs, along with lots of great analysis by Williams. Two chapters cover Miles' later years and Williams provides a perceptive overview of this period.
Verdict: An excellent analysis of Miles' music and packed with superb photographs.
Availability: Not in print but you should be able to pick up a new or used copy from Amazon UK and Amazon US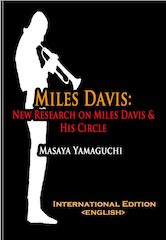 Masaya Yamaguchi: Miles Davis: New Research on Miles Davis & His Circle (International Edition: English)
Masaya Yamaguchi is Japanese-born musician and educator, who lives in the US. This book grew out of research Yamaguchi did on Miles' autobiography, which was written by Quincy Troupe from hours of transcribed interviews with Miles. Yamaguchi obtained 1200 pages of the transcripts and has meticulously and painstakingly researched and checked the contents. He finds various errors and anomalies, and corrects the information with strong evidence. The book is full of images of transcript pages (which include content not seen in the autobiography), letters and memos. There's plenty of stuff about Miles' 1980s music, especially on the guitarists Miles used during this era.
Verdict: A well-researched tome full of fascinating information.