My second set of book reviews that cover Miles's 1980's period.
You can also read Part 1 of my Miles Book Reviews
Part 3 of my Miles Book Reviews
Part 4 of my Miles Book Reviews
Review of No Picture! by Shigeru Uchiyama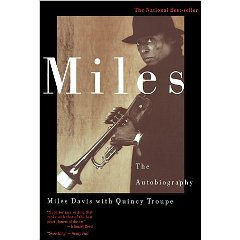 Miles Davis with Quincy Troupe: Miles – The Autobiography (1989)
It was no surprise that Miles's autobiography proved to be a controversial book – profane language, alleged plagiarism and petty backstabbing – take your pick. Miles's co-writer Quincy Troupe does a great job in capturing Miles's voice (you can't help but read it with Miles's raspy voice in your head) but for anyone with an interest in Miles's 1980s period, this book is something of a disappointment. Only 70 or so of the book's 440 pages are devoted to Miles's comeback years, and while Miles provides some interesting insights into the musicians and the music he played in this period, one is left wishing for more depth, detail and insight.
My Verdict: It's great to have Miles's own voice on the record, but the 1980s period lacks depth.
Availability: In print and available from Amazon UK and Amazon US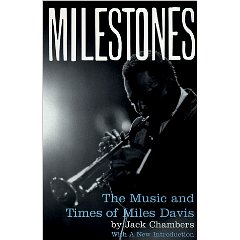 Jack Chambers: Milestones: The Music and Times of Miles Davis with a new introduction (1998)
Milestones was originally published in two volumes covering Miles's life and music from 1926 to1960, and from 1960 to 1984. In 1985, they were combined into a single volume of more than 700 pages. Chambers spent years on these books, trawling through books, magazines and radio and TV broadcasts, although there are no primary sources. When the new edition was published in 1998, I was eagerly looking forward to reading about the 1980s albums Chambers had not covered in the previous edition (which ended with a brief look at Decoy). However, I was bitterly disappointed to find that Chambers had simply included a new introduction, which amongst other things, dismissed Miles's 1980s music as "kids' music" that was: "dominated by three-chord riff tunes." Miles's first three Warner Brothers albums merit little more than a sentence.
My verdict: Chambers has short-changed his readers by not delving more into Miles's 1980s music.
Availability: In print and available from Amazon UK and Amazon US
Paul Maher Jr and Michael K. Dorr (Eds): Miles On Miles – Interviews and Encounters with Miles Davis (2008)
In my first review, I raved about The Miles Davis Reader, which collects interviews and articles on Miles Davis over the decades from Down Beat magazine. Well, Miles On Miles makes the ideal companion to it. The book contains almost thirty interviews and encounters with Davis, stretching from 1957 to 1988, and more than a dozen of them are from the 1980s. The editors have done a great job in tracking down some hard-to-find interviews, including some radio broadcasts. There are classic interviews with Cheryl McCall, Nick Kent, Ben Sidran and Mike Zwerin. And there's even a part transcript of a VH1 radio show hosted by Miles and band member Foley in 1987.
My verdict: A cracking collection of interviews and encounters, and well worth seeking out.
Availability: In print and available from Amazon UK and Amazon US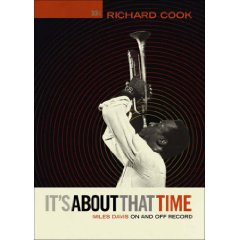 Richard Cook: It's About That Time: Miles Davis On and Off The Record (2005)
The late Richard Cook was co-writer of The Penguin Guide to Jazz and his death in 2007, aged just 50, was a big loss to the jazz writing world. I didn't always agree with Cook's assessment of Miles's music, but his views were always well argued and thought-provoking. It's About That Time is an excellent introduction to the Miles's music, and covers what Cook considers to be the sixteen (not fourteen as stated on the book's back cover) key albums in Miles's vast musical output. Two of the albums cover Miles's 1980s music (You're Under Arrest and Aura), and Cook provides an in-depth examination and analysis of these albums. He also covers the rest of Miles's 1980s albums, although in less detail. This is a very readable book, and whatever period of Miles you like, you find lots to interest and engage you.
My verdict: A novel format and an excellent introduction to Miles's music.
Availability: In print and available from Amazon UK and Amazon US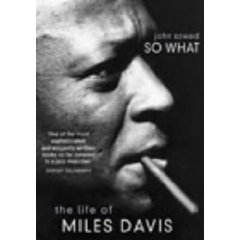 John Swzed: So What: The Life Of Miles Davis (2002)
So What is rightly considered to be one of the best biographies of Miles and Swzed went out of his to find new information about Miles's early years. Sadly, not so much effort was put into analysing Miles's final years. The book is almost 500 pages in length, and yet Miles's last decade is covered in just 70 pages. It's a shame, as Swzed interviewed Teo Macero and had access to his archives.
My verdict: If you want to know about Miles's life before the 1980's, this is one of the best books to read. However, the 1980s period lacks depth.
Availability: In print and available from Amazon UK and Amazon US