It is fair to say that few photographers got closer to Miles than Japanese photographer Shigeru Uchiyama. His stunning of images of Miles captured him on-stage, backstage and in many informal moments. The Last Miles.com was fortunate to ask Shigeru about his amazing career and his close relationship with Miles.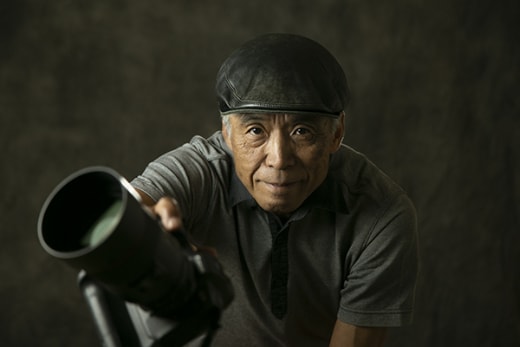 Shigeru Uchiyama in 2021 © Shigeru Uchiyama
The Last Miles: You started out as a freelance photographer, initially doing commercial photography, but I understand, that in 1975, it was suggested that you should photograph jazz artists. Can you recall the first jazz artist you photographed and where it took place?
Shigeru Uchiyama: It was in autumn 1975. I was asked, 'Would you try shooting jazz scenes?' My first assignment was the Tokyo performance of Dave Liebman and Lookout Farm.
TLM: Why do you like photographing jazz artists?
SU: I got obsessed with taking photos of the stages of famous musicians. I was learning to be a commercial photographer, but I changed my direction to jazz photography.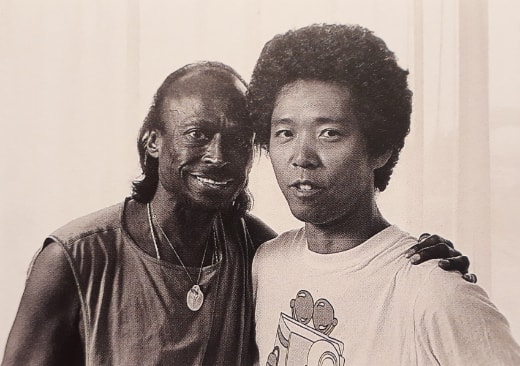 Miles and Shigeru Uchiyama in 1985 © Shigeru Uchiyama
TLM: Can you list some of the many jazz artists you have photographed over the years?
TLM: I started my career too late to take photos of Satchmo [Louis Armstrong], [Billie] Holiday, [John] Coltrane, or [Duke] Ellington, but a lot of jazz giants were still playing actively. When Miles came back to the scene in the 1980s, jazz was very vibrant. A lot of musicians came to Japan for jazz festivals or concerts at huge venues, so if I waited for them in Tokyo, I was able to take almost all the famous players, including, [pianist] Bill Evans, Chick Corea, Herbie Hancock, Keith Jarrett, Count Basie, Charles Mingus, Ray Brown, Jaco Pastorius, Art Blakey, Tony Williams, Joe Pass, Jim Hall, Paco DeLucia, Dizzy Gillespie, Chet Baker, Stan Getz, Sonny Rollins, Dexter Gordon, Wayne Shorter, Ella Fitzgerald, Sarah Vaughan, and of course, Miles Davis!
TLM: Do you know how many images you have in your total jazz archive?
SU: There are more than 5000 rolls of monochrome films (most film rolls have 36 images) and approximately 18,000 reversal [slide] films and I've been digitising them. I am planning to finish the countless scanning works before I die.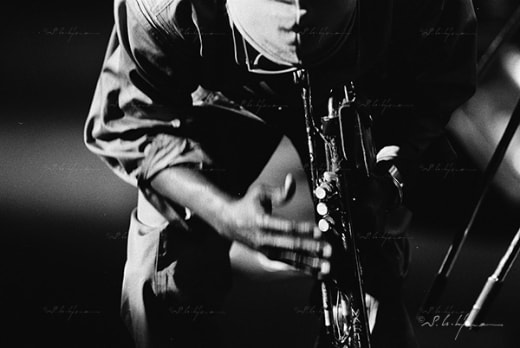 Miles © Shigeru Uchiyama
TLM: Do you know how many images of Miles Davis you have in total?
SU: 120 rolls of black and white film and 1120 reversal films. These contain images of Miles not only on stage, but also backstage, and some very private shots, when he was really relaxed.
TLM: How many books, CDs or posters have used your images?
SU: I was taking photos for the Japanese monthly jazz magazine Swing Journal for about 30 years since 1975. I have published three photo books: Miles Smiles (1993), No Picture! (2016), and Jaco (2017). There are so many vinyl records, CDs, concert programmes, and posters I contributed to that I really cannot count the numbers. Unfortunately, there are a lot of websites and CD covers that have used my photos illegally.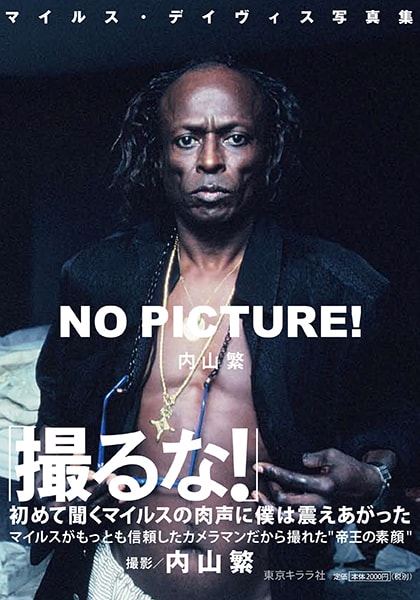 Shigeru Uchiyama:
No Picture!
cover
TLM: Can describe what equipment you use to photograph jazz concerts?
SU: For shootings at concert halls and clubs, where mobility is critical, I used a Canon SLR film camera (F-1, New F-1), Hasselblad (500C and 500 EL), Leica (M3). I don't remember much about digital cameras because I often changed cameras. Probably, the first one was a [Canon] D30. For portraits photos for vinyl, CDs, magazine covers, I used middle-sized Hasselblad, and for the musicians who played very quietly like solo piano or the ones who hated noise, I occasionally used Leica because the shutter sound was softer. After 2000, I shifted totally to digital.
TLM: Has any of your work ever been exhibited in Japan or anywhere else in the world?
SU: The first exhibition was Jazz A to Z in 1985 [note that English titles are approximations of the original Japanese exhibition title]. Others include, MPA photo exhibition SCINE; Live Under The Sky; The Best to Best Miles; Miles Davis Artwork exhibition; Miles Smiles; Portraits of Jazz Pianists; Portraits of Jazz Guitarists; Portraits of Jazz Bassists; Portraits of Jazz Drummers; Portraits of Jazz Horn Players; Portraits of Jazz Vocalists; Mount Fuji Jazz Festival; Trajectory of Mt. Fuji Jazz Festival; New York; Paris; Merry Xmas New York; Jazz Through the Viewfinder; Emperor of Jazz Miles Davis; No Picture!; and Jaco. Sculptor Koichiro Tokumochi and I did Portraits of Jazz / Jazz Sculptures and Jazz Meets Art.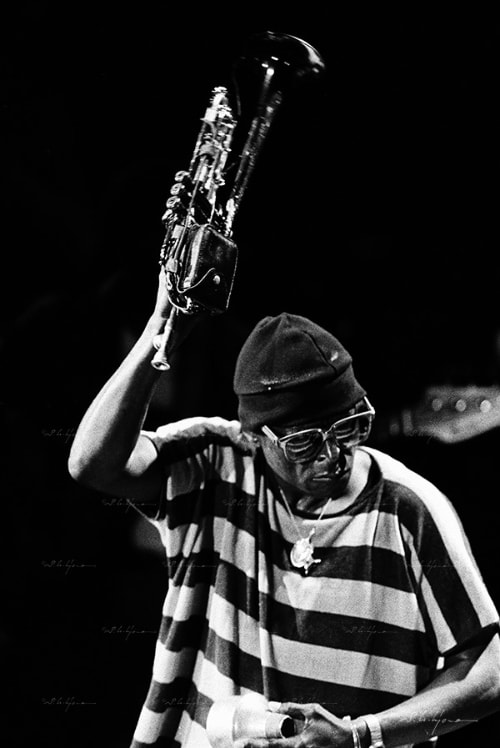 Miles © Shigeru Uchiyama
TLM: I understand that you are also a resident photographer for Blue Note club, Japan. Could you please tell me how you got this position and what it is like photographing jazz artists in a club situation?
SU: In 1988, when Blue Note started business in Tokyo, I had many portraits of the musicians Blue Note were planning to book for the club. It seemed an advantage for the organisers that they could use my photos for advertisements. The launch of Blue Note Tokyo became a driving force, and jazz clubs like Keystone Korner Tokyo and Blues Alley Japan started business one after another. Jazz was booming and I was hired as a house photographer for this reason. Therefore, I was super- busy and was able to make a lot of money.
TLM: Can you please share any memorable moments while working at the Blue Note club?
SU: I was not only taking stage photos, but I also had many opportunities to get to know the musicians and learn about their opinions of music. I had some opportunities to take some musicians who had an interest in photography to camera shops, and also took some to instrument stores to assist them. These are memorable moments for me. At Blue Note Tokyo, the photography area was really limited to narrow space around the PA equipment, that was positioned behind and high above the audience. Even though it was difficult for the people on stage to find me, there were a lot of musicians who willingly looked towards my camera. This was because I let them know where I would be shooting from when I visited them backstage before the gigs. Tony Bennett pointed at my camera repeatedly and it was as if he was singing to me. None of the audience noticed that because they couldn't see into the PA area.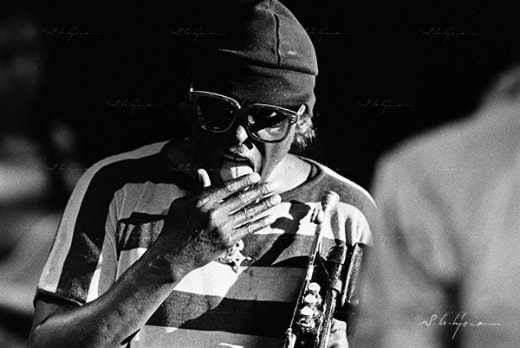 Miles © Shigeru Uchiyama
TLM: Miles Davis said in his autobiography that Japan was one of his favorite places to visit and that the Japanese people treated him very well. Can you explain to a non-Japanese person what Miles Davis and his music meant to many people in Japan?
SU: Not only Japanese people, but the world knows that Miles accomplished the greatest achievements in jazz history. If there is anything Miles' music is appealing especially to Japanese people, it may be his pauses (not playing super difficult phrases with a lot of notes, but having many quiet moments effectively). This syncs with the Japanese 'wabi-sabi' aesthetic. Religiously speaking, it's like drifting between 'emptiness' and 'ambivalence.' Another reason why Miles loved Japan was that Japanese people paid very expensive performance fees by cash without negotiating!
TLM: Your latest book No Picture! starts with a photograph of Miles Davis arriving at Narita airport on September 29 1981. Was that the first time you photographed Miles Davis? Can you recall anything about the event?
SU: After coming to Japan in 1975 to record [albums] Agharta and Pangaea live performances, Miles had been quiet for six years. Therefore, I thought it would be impossible to take Miles' photos. People thought Miles couldn't come back on stage because of health reasons, but in September 1981, I was at the arrival hall at the airport waiting for Miles who were visiting Japan to play again. For jazz photographers, photographing Miles was a feather in the cap (something to be very proud of) and it was equal to receiving a medal. A very long time had passed since the arrival time [of Miles' flight], and when I found Miles at the Immigration floor in the distance through a glass, I was already very nervous and excited. I felt relieved when I saw him talking to an [airport] escort staff with a smile. In the past, Miles got arrested for possessing guns or drugs, and there were times when concerts were canceled because he was not allowed to enter Japan.
When he showed up, he wasn't with [his personal] escort staff, but with the actress [and soon wife-to-be], Cicely Tyson, who was said to have a lot of positive influences on him to start playing again. He was smiling, holding her hand.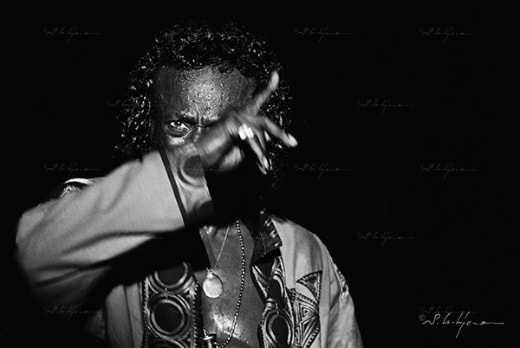 Miles © Shigeru Uchiyama
TLM: What was the first Miles Davis concert you photographed? Do you have any memories about it that you can share?
SU: The first concert was at the stage set up among buildings in the city centre. The concerts were held over three days, and audiences of 10,000 people enjoyed them daily. Miles was limping around the stage and 60 photographers were chasing him frantically going right and left.
I realized that staying in the closest position may not always be a good idea, so after going right and left with others, I quietly left the pack and went to the back of the stage. When I inserted my camera lens between the black curtains, I could see Miles giving directions to the band members about rhythms. Also, I could see him asking for a cigarette at the stage wing during a very short break between songs.
TLM: Can you tell us about the first time you met Miles Davis?
SU: After the concert on the final day of the Tokyo performances, I took a group shot where all the members were backstage (in the dressing room). After a few shutter sounds, Miles walked to the exit without saying anything [and] without any expression, and I felt intimidated. Miles arrived at a hotel in Nagoya for concerts. When I pointed my camera toward him, he stared hard at me, walked to me, and said: "No picture!" with a hoarse voice and a piercing look. They were the very first words uttered by Miles towards me. I stood frozen on the spot. I was dreaming about pointing a camera lens at Miles, but I got frightened and overwhelmed with fear.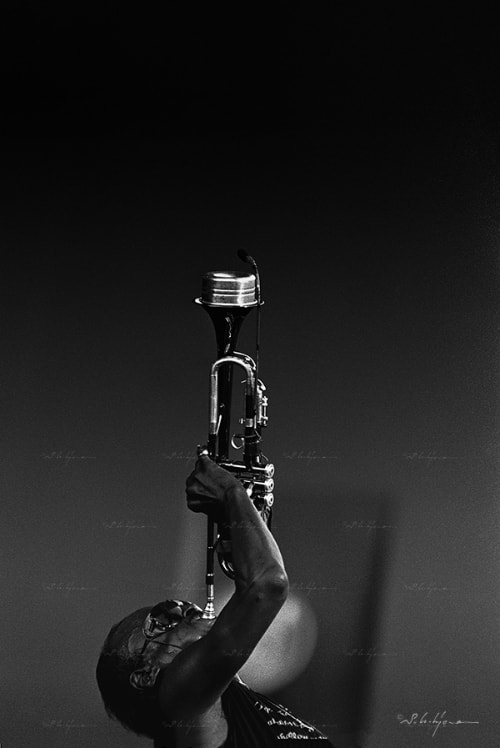 Miles © Shigeru Uchiyama
TLM: Looking at your amazing photographs, it is clear that Miles had a deep trust and respect both for you and for your work. Can you explain how you built up this incredible relationship with Miles Davis? Did he ever tell you why he liked you so much?
SU: When Miles came to Japan in 1981, I was just one of the press photographers who annoyed him. However, he might have seen my photos in jazz magazines and perhaps realised that the person who took those photos was me, who chased him around all the time. Two years later, when he came to Japan again for another Japan tour and I got close to him again, he grabbed my arm and said, "I'll show you shadowboxing. Follow me." He beckoned me to a swimming pool and said: "Why don't you have a camera while I am swimming!?" When he saw sumo wrestlers, he said: "I'd like to take photos with them." He used to hate being photographed, but his attitude toward photography had changed greatly. He said he showed his smiley photos to his friends telling them: "Jap made me smile so nicely."
TLM: How did you approach photographing Miles?
SU: I almost never asked Miles for permission to take photos. As a photographer with a camera near him, it was obviously my intention to take his photograph. Miles rarely told me to take photos or not to take photos, because I am a photographer who has a great sense of when to shoot and when not to. If I had tried taking photos at a wrong moment, he would have kicked me out on the spot.
TLM: I am amazed at the many photographs you took of Miles at home or in a hotel room. How long did it take for Miles to allow such access to his personal life?
SU: He rarely accepted requests of interviews and photo sessions even if the requests were by famous (and authoritative) jazz magazines. Also, even if a request was accepted, he used to cancel it at last minute, or he changed the time and/or place – and usually, the new time and place were impractical for the interviewer. If an interviewer gave up on meeting him, then Miles would never see them again. The editor of an authoritative jazz magazine – a music journalist who is a big fan of Miles – and I passed a lot of unforgiving tests to get close to Miles.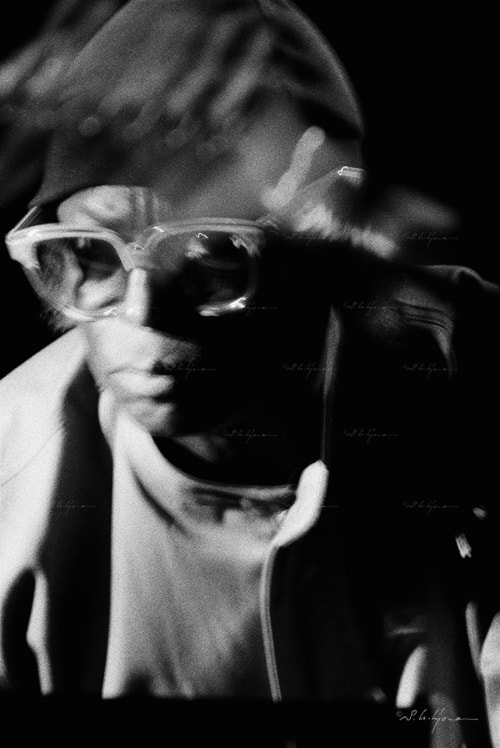 Miles © Shigeru Uchiyama
TLM: When you visited Miles Davis's home, how long did you stay there?
SU: In spring 1985, three of us were invited to his holiday house in Malibu. We flew from New York to LA to spend time just three hours with him. Miles let me take photos of him drawing pictures on his drawing pads and showing me each of his rooms: bathroom, kitchen, and his yellow Ferrari at the garage. It was a long daytrip. In summer 1986, we visited his place in Manhattan. He showed me his bathroom cluttered with his shaver and brush, his bedroom with his clothes and belts. Again, he didn't try to hide his private life – he showed me everything.
TLM: No Picture! includes photographs of Miles at the Decoy sessions in A&R studios in New York. Did you photograph any other recording sessions and do you have any memories of them that you can share?
SU: In July 1983, I received information that Miles was coming to A&R studios so I went there. Later, Miles showed up and invited me into the studio saying "Follow me." It was a month since I had last seen him at a concert in Japan, but he didn't say hello and there were no handshakes. When I was listening to the recording at the control room, I suddenly got kicked out of the room. When Miles' playing started getting good vibes, he suddenly said: "Get rid of that Jap!" It was only the time I saw Miles' at a recording session.
TLM: I purchased your book Miles Smiles when I was in Japan. It is a superb but very rare book to find. How many copies were printed? Are there any plans to republish it?
SU: Miles Smiles was published in 1993, and the 3000 copies were all sold out, but there are no plans for a reprint. If there are any publishers who wish to publish the book in English or French, please let me know.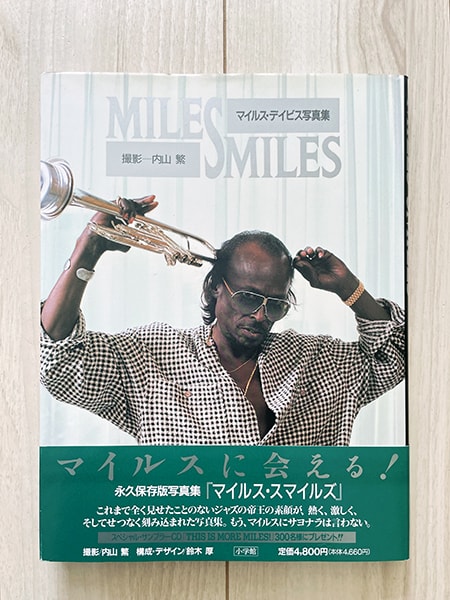 Shigeru Uchiyama:
Miles Smiles
cover
TLM: Can you tell us how many copies your latest book No Picture! have been printed?
SU: As you know, "No Picture!" were the very first words from Miles to me, who was chasing around and annoying him. 3000 copies were printed.
TLM: In No Picture! there is a striking photograph of Miles standing astride over a person lying on their back. Can you tell us who that person is and what is happening the picture? 
SU: After concerts, Miles used to listen to the concert tapes very loud in his hotel room. After the concert in Tokyo in 1985, his nephew, Vincent Wilburn Jr., came to Miles' room and Miles gave him some advice as he was listening to the evening's recording. Miles let him hear the same part repeatedly, then playfully held him down, and pointed out some parts that could be improved. I was very surprised to see him teaching his nephew so enthusiastically.
TLM: Do you have any favorite photographs of Miles?
SU: The cover photo of Tutu by Irving Penn is amazing. The art director was a very famous Japanese graphic designer, Eiko Ishioka.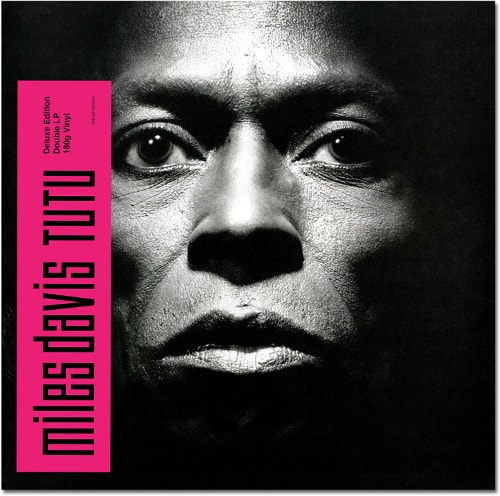 Miles Davis:
Tutu
TLM: What was Miles Davis's reaction when he saw your photographs? Did he have any favorite images you took?
SU: This goes back to an earlier question. He said he showed his smiley photos to his friends telling them: "Jap made me smile so nicely." It was a smiley photo of Miles opening his arms widely looking at the Pacific Ocean from his holiday house in Malibu.
TLM: Do you have any memories you can share about any of Miles Davis's band members over the years?
SU: When Miles was still very cautious about me, Al Foster (I had known him for a while then) gave me some opportunities for taking band members' group shots and some off-stage photos of Miles. The person who gave me the information about the secret recording in New York was Darryl Jones. After he joined Rolling Stones, I asked him to give me an opportunity to meet Mick Jagger, but it hasn't happened yet. Other members like [saxophonist] Bill Evans and Mike Stern have been welcoming when I've seen them at concerts, and they willingly let me take their photos.
TLM: When was the last time you photographed Miles Davis?
SU: In the 1990s, Japan seldom hosted small venue gigs by super famous musicians like Miles. As a house photographer of Blues Alley Japan, that had newly opened in Tokyo, I took photos of his gigs for four nights in a row, and at an outdoor concert organized by the same club. And it was the last time I photographed Miles.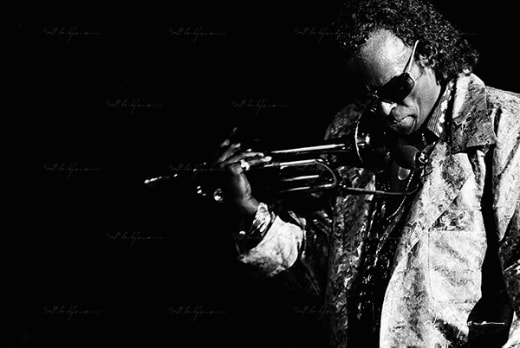 Miles © Shigeru Uchiyama
TLM: Can you recall the last time you saw Miles Davis?
SU: In summer 1991, I was at Avery Fisher Hall in New York, not holding a camera, but a concert ticket. It was three months before his death. I really enjoyed his concert as a member of the audience, without a camera, and I burned the experience into my heart. It was the last time I saw Miles and I didn't even visit him backstage.
TLM: Are you planning any more books or new exhibitions about Miles Davis?
SU: I am hoping to hold photo exhibitions in London and Paris before I die.
TLM: Can you share some of your favourite memories of Miles Davis please?
SU: Miles often canceled interview appointments at the last minute. When I visited him at a hotel room with an editor, a writer, and a Japanese celebrity as an interviewer, he looked uneasy, walking around the room, going into his bedroom, and coming back. He said: "This is my day, not your day. I won't let you interview me or take photos." He mumbled some complaints repeatedly and we were kicked out. As I was leaving his room, after everyone else had left, he casually put his hand on my shoulder. It was as if he was saying: "I know you understand me. Please come again." I just nodded. It was a happy cancellation memory for me.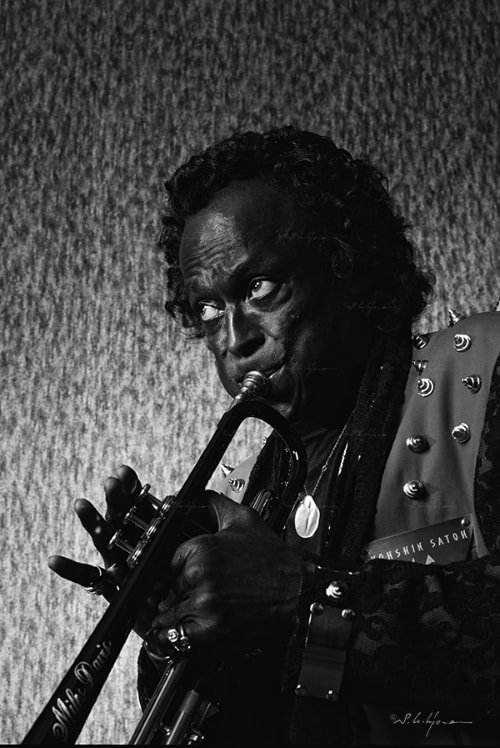 Miles © Shigeru Uchiyama
TLM: Can I also ask you about Jaco Pastorius? Can you share some of your memories of photographing him and what he was like as a person?
SU: One day in 1981, I got a call from a person in charge of jazz in a record company. He sounded upset and asked me if I could come to a photo studio in Yotsuya [a neighborhood in Tokyo]. He said they had reserved a photo studio to take Jaco's photos for an advertisement, but he didn't like the photographer they had assigned, and kept insisting that they should call Uchiyama. I rushed to the studio and took a lot of photos of him from various angles within a limited time by changing background colors and being creative with lights. Jaco showed me many different appearances: changing his shirts, tying his long hair, and untying it. When I said I'd like to capture the photos with his bass guitar blurred, he shook the neck of the bass again and again. This is one of the unforgettable photo sessions for me.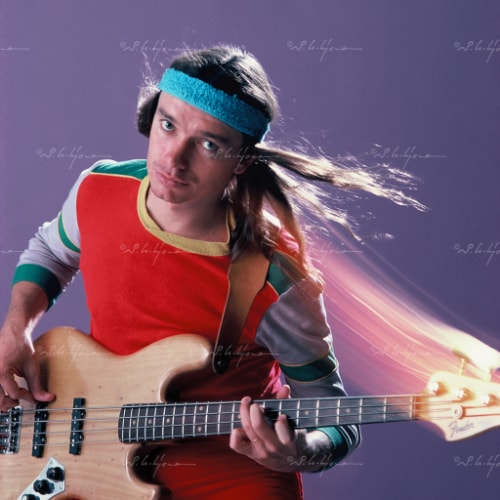 Jaco Pastorius © Shigeru Uchiyama
Jaco and I were both born in 1951. Ever since I covered Weather Report's Japan tour right after Jaco joined them as a new member, we had been really getting along as friends of the same age. "Let's go to instrument stores together." "I'm going to bring my bass with me, so please take my photos with my instrument on the street and on the subway," he would say with an impish smile. A few days later, when I showed him the photos, he happily wrote a lot of "J"s on the contact sheets with a red pen. When I saw him at a jazz club in New York, he introduced me to his band members saying, "This is the world's best photographer who photographed the world's best bass player." That was hilarious and it made me happy! He often used the expression "world's best."
The last time I met Jaco was at an outdoor concert held at a pier of Manhattan. I don't know why he was there. He looked a little woozy, but was happy about finding me, and he gave me a can of beer. I drank it feeling confused. The following year, he passed away from such a sad incident [In 1987, Jaco was beaten to death by a club bouncer]. Jaco had mental health issues, but he was a genius. He was really a good guy who cherished friendship.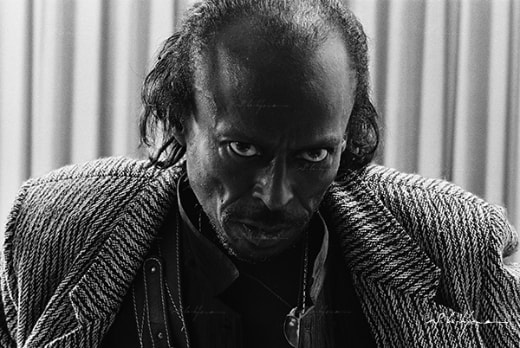 Miles © Shigeru Uchiyama
Many thanks to Shigeru for taking the time to answer my questions, and thank you to Kumiko, for all her hard work in translating our words.
You can see our review of Miles Smiles here and our review of No Picture! here.
Many of Shigeru's great images can be seen on his Flickr page and Shigeru's Facebook page is here.