John Beasley's parents were both music educators and so it was almost inevitable that he would also become a musician. Despite showing early talent, it's doubtful that even John's parents could imagine the musical career John would have, including playing keyboards in Miles' band from April to May 1989. The Last Miles talks to John about Miles, plus working with Steely Dan, his love for the music of Thelonious Monk, the great appeal of Indian music and more.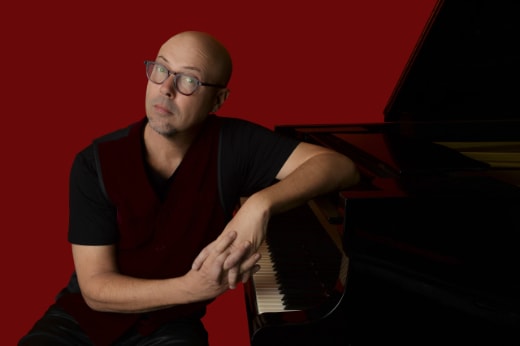 John Beasley by Rob Shanahan: image courtesy of johnbeasley.com
The Last Miles: You and Kei Akagi joined the band when Miles had just lost two keyboard players, Adam Holzman (who was Miles' musical director) and Joey DeFrancesco. How challenging was it joining the band under these circumstances?
John Beasley: It was even more than that – it was chaotic, because Bobby [Irving III – Miles' previous musical director] had quit and Joey had only been there about a month or so before he left. So in some ways, it was a new beginning. I didn't look at it like that. I saw it more like, 'I've got to learn all these tunes and I have to figure out how I fit in and what Miles wants from me.' I always thought that way because of how the group was structured.
There were long improvisational sections – vamps – but for the most part, it was more like an R&B gig and you had parts to play that were consistent. I was envisioning me being his modern-day Gil [Evans] in that I could colour within that framework. Luckily, Adam was still in New York and he would come in and help out at the rehearsals. In fact, I think he was running the rehearsals at first. We rehearsed for two weeks.
TLM: Did you feel ready after the rehearsal period?
JB: No! I don't think I ever totally felt that comfortable. I felt good with the parts, but nobody said to me that Miles was going to play a certain lick or a tune and that I was supposed to come in after the lick. He had these calls [cues] that he'd play on the trumpet and I just thought he was blowing – that he was going to play an extended trumpet intro. Finally, it was like, 'Ah, okay, I get it now!' There was one time in Portugal and I said to Miles, 'I'm not feeling it [the music] in my body,' and he said, 'Come up to the room.' I went and he started to play little rhythms and pieces to me and that helped – he was always supportive and always helping in his own way. So, the next night, he gets up on his little keyboard, which was facing me, and looks over his glasses and starts playing little combi pieces and I started playing them back. It felt much better.
So, I guess the challenge was because the rest of the band had gotten used to how the other guys fitted in. It was the opposite of what I expected it would be like playing with Miles. The drummer Ricky [Wellman] was a great musician, but he wasn't a jazz musician; same with [lead bassist] Foley. 'There wasn't any, 'let's make up some shit every night' and that was what I was looking for. There were spots where you could kind of do that, but it took an adjustment.
TLM: The band was an interesting mix of jazz musicians like Miles, you, Kei and [saxophonist] Kenny Garrett, and funk/R&B players like Foley, Ricky Wellman and [bassist] Benny Rietveld. [Percussionist] Munyungo Jackson straddled the jazz and R&B genres.
JB: Yes, and when it worked, it worked great.
TLM: What about your relationship with Kei Akagi? Did you both manage to sort out who was doing what?
JB: I would say so – we bonded really well because we were the new guys. We had known each other and were sort of friends from being on the scene in LA. Munyungo was one of my best friends, so that was easy. At first, Adam split the orchestral parts between us, or I would come up with a sound and he'd say, 'that would go with this part,' and Kei would do something else. The first time we played in concert, we were both jumping in. I think it was our first gig in Italy and we both thought we were badass. Kei and I got into this whole atmosphere thing and were playing these vamps – it was killing us. But after the show, Miles said, 'Man that sucked – what are you guys doing?'!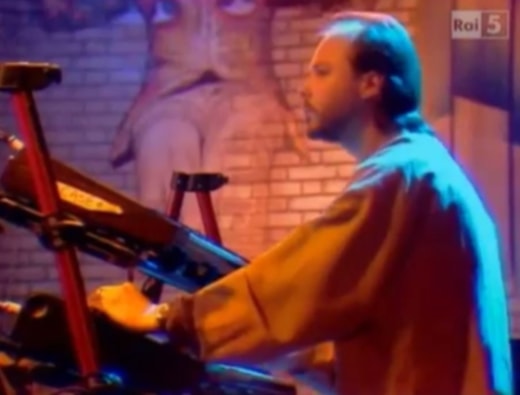 John Beasley playing with Miles in Italy 1989
TLM: What do you recall about the 1989 Italian TV gig?
JB: It started to come together by then and we started to feel a bit more comfortable. I watched it about a year ago, and I thought Miles looked and sounded great. It still felt new and I felt that the band had great potential and if I had stayed longer, it could have developed into something really cool.
TLM: Was the televised show the complete gig?
JB: I don't think we repeated any tunes. It felt like, 'boom – go-ahead, hit this TV show and then go home.' The rest of the guys had been together for a while, so Kei and I just followed their lead. I'm glad it was documented, because there are hardly any pictures of me with the band.
TLM: The opening tune was only played a few times and then dropped. Do you recall anything about it? [the tune was played to John]
JB: I have no idea what it is – I don't remember it all!
TLM: It's also the only time the tune George Duke's 'Cobra' from the Amandla album was ever played live.
JB: Tutu and Amandla are my favourites. I have no idea why it was dropped.
TLM: Looking back, what are your biggest memories of Miles and being in his band?
JB: Just being around him. He's probably the most dedicated artist I've been around. I remember some of the bus rides and we'd be sitting in the back together, watching boxing or a conversation would lead to Charlie Parker. He was just one of the guys. There were a couple of [bus] trips that were overnighters and I remember waking up early in the morning, and he would just be leaving the bathroom, and I would be going in and he'd say, 'I'm still pissing out cocaine!' He was a funny guy! I would go to his room and he would play trumpet to me alone. He had a way of saying my name: "John, John." I can still hear him saying it. I remember the first time he came down to a rehearsal and I told myself that when we meet, I was just going to look him in the eye and see what happens. We had this long look at each other and then he broke out into a smile. He never gave me any gas [hassle] after that. Whatever he said was the truth; whatever he did. I'm now 62 and he was the same age when we played together. He seemed much older then.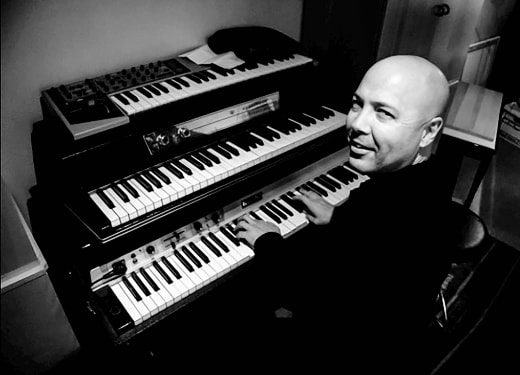 John Beasley: image courtesy of johnbeasley.com
TLM: Let's move onto your post-Miles career, but before that, I understand that you wanted to be an arranger before being a player.
JB: I was always around my parents' rehearsals, so I had this romantic view about being a musician. I heard a lot of music – big band, R&B, Hendrix, Dad's band, [trumpeter] Thad Jones and [drummer] Mel Lewis; Quincy [Jones'] Walking in Space. It was the idea that you could write music for a jazz band that was great. I was enticed by the way of playing jazz with a large ensemble. I started to play piano and wanted to do that as well. The sense of finding a vibe for a tune or a colour or a groove and then arranging it in an interesting way – that is seeped into my piano playing. I can remember playing and stumbling upon something in real- time and making a real-time arrangement. Even on a trio gig I'm still sort of an arranger.
TLM: I always like to ask arrangers where the line is between arrangement and composition, because on some tunes, the arrangement is a very much an integral part of the song.
JB: Definitely. You can really shine something that's not really great by arrangement. And then you start crossing that line into composition by adding structure or harmony or modulation. There are lots of creative ways to make a tune soar and have something that it didn't have in the first place.
TLM: You've had an incredible career and we can only scratch at its surface, but I have to ask you about another favourite artist of mine and that's Steely Dan. You worked extensively with Walter Becker – he was a mentor to you. And you worked with Steely Dan for years, becoming their musical director. They had a reputation for being musically demanding!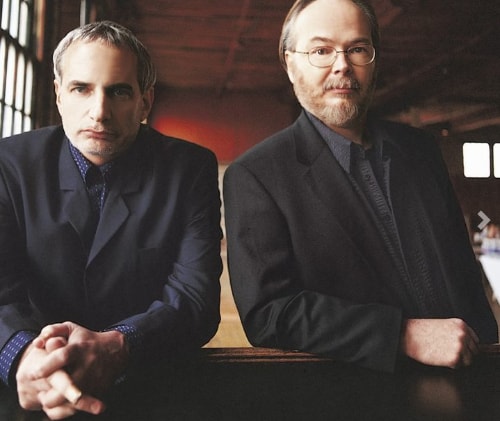 Donald Fagen and Walter Becker of Steely Dan © steelydan.com
JB: Same with Miles. I first got working with Walter when he was producing Rickie Lee Jones and the Flying Cowboys album. I was working with Walter around late 1988/early 1989 when I got the call to join Miles. I was working with all these great session guys like [drummer] Jim Keltner and [guitarist] Dean Parks, and was a huge Steely Dan fan. So I told the guys about Miles and they said I should go, plus my wife was pregnant. So in the last week, they got me this huge bottle of champagne and signed it. I didn't open the bottle until my daughter's 30th birthday last year.
So, I went on my way to Miles and while I was on the road with him, I was writing on my days off. I was floored by Amandla and Tutu and Marcus's [Miller] writing at the time. I think it kind of impressed Walter that I had left him for Miles! He called and said: 'I've got an imprint with Windham Hill Jazz and I want to produce your record – it's a two-record deal. About half the tunes I wrote on the road ended up on my first album, Cauldron [released in 1992]. We did the two records [the second was A Change of Heart in 1993] And then I worked with Walter in Hawaii on his solo album 11 Tracks of Whack. It was a great experience. Walter would listen to all kinds of music and told me that he got many song ideas from newspaper reports. It was great working with Steely Dan and we had a fantastic band with players like [the late drummer] Ricky Lawson and [bassist] Freddie Washington. Was it challenging – it was certainly interesting! My job as musical director was to rehearse the bands – someone else wrote the charts. It was a great time.
TLM: In 2008, you released a tribute album to Herbie Hancock, Letter to Herbie. Can you explain the genesis of the project?
JB: It all started in a jazz camp in Utah and they had these incredible Steinway pianos in the practice rooms. I was messing around during a break and I started noodling on the turnaround on [Hancock's tune] 'Tell Me A Bedtime Story'. I just had the notion, 'What if I slow it down and play the [Hancock tune] 'Maiden Voyage' rhythm with that?' Then I said, 'Wouldn't it be amazing if the melody of 'Maiden Voyage' worked on top of that?' From that, I figured I could put myself as an arranger for Herbie's tune and take the bullseye off my back as a pianist doing a Herbie thing.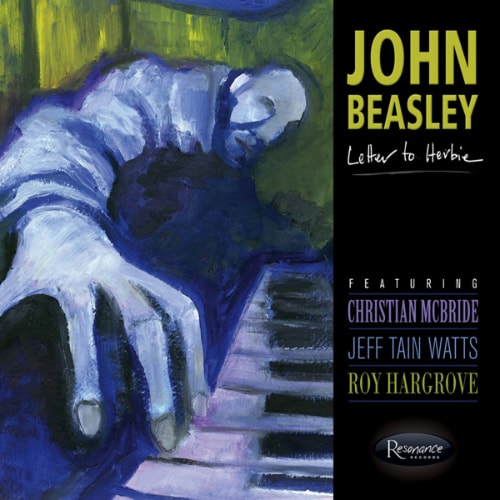 John Beasley:
Letter to Herbie
TLM: has Herbie heard the album?
JB: I don't know! I have worked with Herbie and I know his secretary put a copy of the album on his desk, but I haven't the courage to ask him what he thought of it!
TLM: Another artist I admire whom you've worked with is [guitarist] Lee Ritenour. I particularly like your playing on the track "13" on the album Rit's House. You've also gigged numerous times with him, including a great gig in Japan featuring Lee, Mike Stern, you, bassist Melvin Davis and drummer Simon Phillips at Blue Note Tokyo. How did your long musical association start?
JB: I played with him as a session player before I started doing any live playing with him. I used to have a band, Audio Mind that had [drummer] Vinnie Colauita, [bassist] Gary Willis and [woodwind player] Steve Tavaglione. We were an anti-smooth [jazz] band and just improvised sets. Lee came in a couple of times and we met. The first session I played with Lee was for a GRP records compilation album, and the first album of Lee's [1993 album] Wes Bound. I did some live tracking with Dave Grusin and that was amazing! Then he started getting me on more records and certain gigs – I would often sub for Patrice Rushen or Dave and we've been tight ever since. I produced his [2015] album A Twist of Rit, which was about reworking some of his older material and we cut that live in the studio, with everyone in the room together. Lee's extremely loyal and it's been a long stretch since we started working together.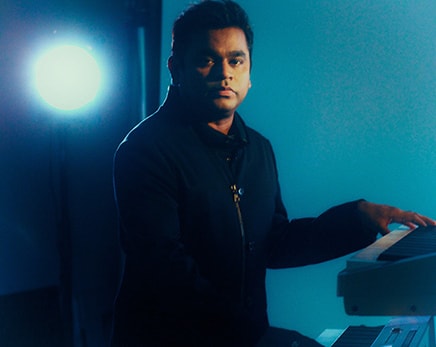 A. R. Rahman: © arrahman.com
TLM: You have a strong affinity for Indian music. You've worked with various Indian musicians and composers, including A. R. Rahman [composer of the Slumdog Millionaire soundtrack], whom you toured with; you worked on the soundtrack for the Best Exotic Marigold Hotel; and with the late Bob Belden, helped form the Miles From India project [which created new arrangements of Miles' music, with American jazz musicians and Indian musicians playing it together], which you have played live. Where did the interest come from and what are the challenges in terms of Indian music having a different form from Western music?
JB: That came through [John] Coltrane. He was starting to play raga [a collection of melodic scales, phrases and motifs] which is very similar to jazz modal music. I found out that Coltrane was inspired by [virtuoso musician] Ravi Shankar's record, An Introduction to Indian Music, which came with a book. I think there are four ragas on the record and before he plays each one, he describes how it goes up and down. What I gleaned from that was that I could play jazz in the same way. That changed the way I played a lot and I thought, 'this is great!' Then I had a mentor [the late trumpet player] Charles Moore, who founded Strata records in Detroit. We would get together and count the Taal [rhythm pattern], clapping as we counted. He also taught me how to use my fingers to count through the long cycles.
I remember doing a Miles From India concert in San Francisco [in 2008], which included Bob [Belden], Badal Roy on tabla, Lenny White on drums, Foley on bass, [the late] Pete Cosey on guitar and other musicians. While we were playing, I started playing ragas and the Indian players in the band kind of looked at me! What I love about Indian music is that it's so sensual and soulful – it's the blues of India! It's so funky rhythmically – you can hear a deep cry in the music. It has the same effect on me as jazz and blues – it just resonates. A.R. Rahman called me, and even though his music is more pop-based, it's steeped with raga and he also breaks the rules. It was great helping him pick tunes for the show [the 2010 Jai Ho Concert: The Journey Home World Tour]. On tour, you'd have these musicians, singers and dancers together on a bus and we'd have these jam sessions while we were travelling – it was amazing.
TLM: Have you considered playing with someone like John McLaughlin, who is also a big fan of Indian music?
JB: I would love to do that, although I could never keep up with some of the fast stuff he does, but I'd try! I have this idea of putting together a band with acoustic piano, cello, percussionists and Indian singers and dancers. Maybe I'll get the chance to do that. I really love the singing in Indian music.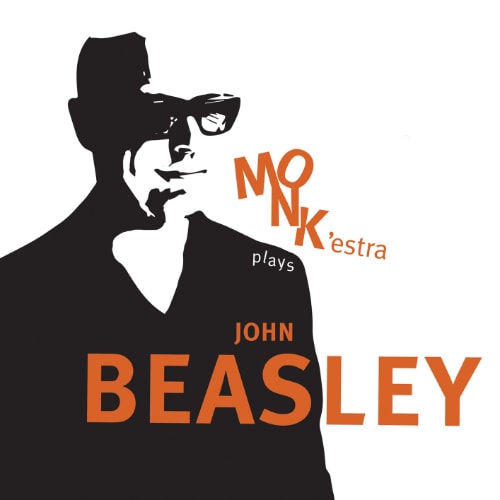 MONK'estra Plays John Beasley
TLM: Your MONKestra project, which celebrates the life and music of pianist Thelonious Monk, has yielded three albums, and got you a Grammy for the latest one [John won the 2021 Grammy for Best Arrangement, Instrumental or A Cappella for the track "Donna Lee" on his 2020 album release MONK'estra Plays John Beasley] What did winning a Grammy mean for you and what is the attraction of Monk's music?
JB: It reinforced and bolstered my notion of having the courage to be yourself. When I started the project, I wasn't writing for anyone but myself. Monk was never really appreciated in his life – he took a lot of heat for being different and being himself. Musicians flocked to him, but the general public probably thought he was crazy. The press wrote more about his personality than his music, and he was so brilliant. When you do a deep dive into Monk you really see how brilliant and individual the music was. Maybe somehow, people now sense that. It's probably my most popular project, so the lesson there is just to be yourself.
TLM: Finally, on your website is a picture of you sitting at a piano wearing a face mask. Are you optimistic for the future of music after this Covid-19 pandemic?
JB: I think we're going to be super-busy. It's going to be like the Roaring Twenties after the Spanish Flu pandemic. I don't know if the fees will be the same, because venues are suffering, but I don't think it will be long to get back to where we were, and go beyond actually. It's taught us how much we need interaction with people and live music.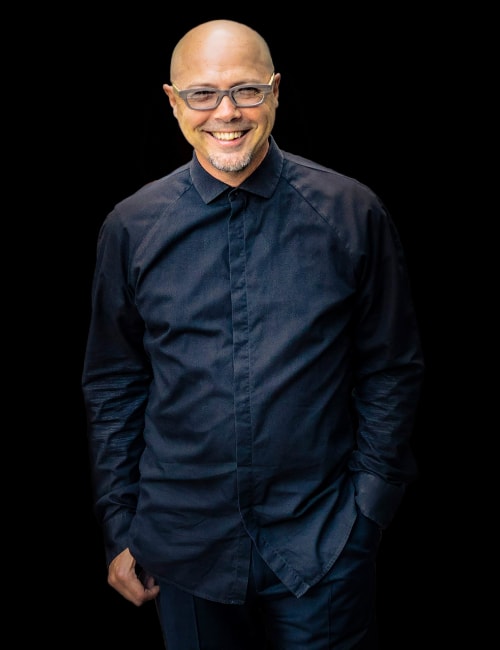 John Beasley by Eric Wolfinger: image courtesy of johnbeasley.com
Many thanks to John for his time and to Lorna Chiu for all her help.
John's website is at: johnbeasleymusic.com.