Jeff Richman is one those highly talented guitarists/composers/producers who ought to be much better known than they are. Jeff has released around dozen albums and performed with many artists including, B.B King, John Scofield, Steve Lukather and Eartha Kitt. Just recently his profile has been raised by a string of guitar-based tribute albums, the latest being Fusion for Miles A Guitar Tribute (Tone Center TC-40412), which features cover versions of tunes from Miles's various eras, including several from the 1980s. The guest guitarists include Mike Stern, Bill Frissell, Bill Connors, Pat Martino and Jimmy Herring. Incidentally, if you can get hold of a copy of the November 1981 issue of Down Beat, you'll find a superb transcription by Jeff of Mike Stern's solo on "Fat Time."
TheLastMiles.com talked to Jeff about the album and his thoughts on the music and musicians Miles had in the 1980s.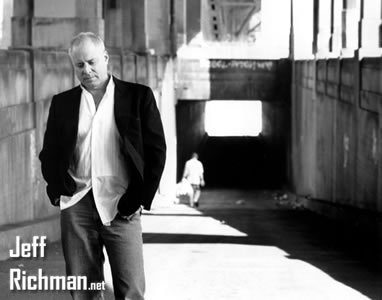 TheLastMiles.com: Jeff can we start by asking you about the influence Miles had on you musically? What albums, tunes and periods in particular influenced you?
Jeff Richman: The first Miles album I bought was Bitches Brew when I was in high school. I had no idea what was going on in the music, but was very Intrigued. I knew that this music was innovative, mysterious, strange, beautiful and forward thinking. I knew that I wanted to know more and study music deeply. Later, when I was a student at Berklee [College of Music, Boston], I heard Miles play live in one of his classic bands in 1974, and then many times after that. I have been strongly influenced by his direction in music and distinct sound of his instrument.
TLM: In your acknowledgements, you list a number of qualities that made Miles special as a musician. For the benefit of those who've not read them, can you explain again what these were and perhaps expand on them?
JR: The fact that he was constantly changing, never settling for one style. He was able to put great bands together by letting his musicians feel free in the music.
TLM: What's your take on the music Miles made in the 1980s?
JR: I liked it when he first came out with "Man with The Horn," "We Want Miles," "Tutu," "Amandla," "Star People" and "Decoy" – after that, a few things were hit or miss for me. I loved his playing and his bands.
TLM: "Fusion for Miles" is the third in a series of guitar tribute albums you've been involved in (the others covering John Coltrane and The Mahavishnu Orchestra), can you tell us about the concept behind the series?
JR: Well since I have always been a big Miles fan, I suggested the concept to Mike Varney, the head of Tone Center Records and he decided to go for it!
TLM: There have been a number of tribute albums to Miles. Have any of them especially impressed you or influenced you?
JR: The one I loved, wasn't really a tribute album, but it was Panthalassa produced by Bill Laswell. It was a remix CD, but I loved how he arranged the music!
TLM: How did you approach "Fusion for Miles." With Miles's vast musical heritage, it must have been a challenge to select just ten tunes to represent it?
JR: I actually wanted to choose tunes from different eras. I chose songs that I like from various periods of Miles's career. I guess what holds it together as a unified projects are the arrangements played by the same band.
TLM: How long did it take to put together – and when and where was it recorded?
JR: It took about three months to arrange all the tunes, I worked really hard on making the arrangements work organically, so sometimes I had to be patient and rework things until I was satisfied. We recorded basic tracks in a few days with the rhythm section. Then I overdubbed each guitarist individually, that took a few months just to get everyone's schedule together. So I would say with mixing and mastering the whole project took at least six months for start to finish.
TLM: You put together an impressive core band – how did this decide who would form it?
JR: [Drummer] Vinnie Colaiuta is the most amazing drummer I know because he seems to understand everything instantly and then add something special and innovate so organically – and so quickly and effortlessly – it's just amazing. [Bassist] Alphonso Johnson is well versed in all styles and at the same time he has is own unique style and sound which always comes throughout the music.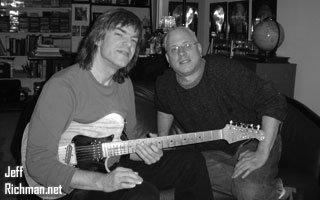 Mike Stern and Jeff Richman
TLM: Dave Liebman appears on some cuts – how did he get involved in the project?
JR: Well Miles almost always had a sax player to partner up with, so I thought it would be nice to add that voice and sound occasionally. The record is so guitar heavy that it is nice to take some breaks from it. Luckily Liebman was into it, played incredibly great and added validity to the project since he played with Miles!! I actually saw him play with Miles in the '70's in Boston!
TLM: You have a great mix of guitarists! How did you select them for the project and did they have any say over the songs they wanted to cover or did you assign them to each player?
JR: I think Mike Stern is the only one who asked for "So What", so I tried real hard to make that arrangement special for him. That one is fun to perform live, it has a great flow to it. All the others I thought about which tune would work best for each player. Nefertiti seemed right for Frisell, Serpents Tooth for Martino and so on.
TLM: The only guitarist on the album who played with Miles was Mike Stern (who plays on "So What"). Did he give you any insights into Miles's music that helped you with the project?
JR: He didn't give me any specific insights in regards to this project, but I have been close to Mike since we went to college together since 1976. So he has told me lots of things about playing with Miles over the years. I know that he a special fondness guitar , I would hope that he would have liked this CD. [See Mike's profile in The Last Miles's Guitarists section].
TLM: I'd like to focus on the three tunes you selected from the 1980s – "Splatch" (which you play on), "Jean-Pierre" and "Back Seat Betty." What qualities determined their selection?
JR: These were tunes that I really liked and that I thought I could stretch arrangement wise.
TLM: Where there any tunes left in the can from the project?
JR: None, we did ten total.
TLM: In the last four years, Miles's "guitarist" was Foley, who in fact played "lead bass" by tuning his bass up an octave, using pedal effects and developing new ways of phrasing. As a guitarist, what's your take on this concept?
JR: To be honest, I just couldn't get into him. He sounded like a bass player on a piccolo bass (which I guess that's what it was). He didn't have the guitar player's touch, sound or feel…..especially when you think of his three previous guitarists!!! Scofield, Stern and Ford – who all have that going on for them big time.
TLM: Miles used a wide range of guitarists during his electric phase, from Joe Beck to Foley – with musicians such as John McLaughlin, Pete Cosey, Mike Stern, John Scofield, Robben Ford and Bobby Broom in between. Quite a mix! Any thoughts on any of them?
JR: They all have their place in the evolution of Miles Davis incredible careers and adventure in music. Some guitarists I relate to more than others, but they all have a piece in the puzzle of an astounding work of art!
TLM: Are you planning another guitar tribute album and if so, any clues as to whom the subject might be?!!
JR: Currently I am working on a Steely Dan tribute CD!!!!!!!!!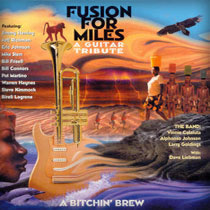 Buy Fusion For Miles online from Amazon UK and Amazon US