The word "polymath" could have been coined for Eleana (Steinberg) Tee Cobb. Over the years, she has been a musician, songwriter, producer, director, poet, dancer, medical hypnotist and more. Eleana hails from Greenwich, Connecticut and over the years she's written, recorded and travelled with many great bands including, The Ellis-Liebman Band ,Elvin Jones, Miles Davis, Bill Evans, Stuff, Art Blakey, Paul Simon and Tony Williams. Eleana was close to Miles for many years and used to call Miles her "mother", and Art Blakey her "father". She married the superb keyboardist Richard Tee, who had worked with artists such as Paul Simon, Aretha Franklin, Lena Horne, Quincy Jones, Carly Simon and Barbara Streisand. Richard also helped found the band Stuff that included drummer Steve Gadd. Sadly, Richard died in 1993 aged just 49. Eleana has since re-married and her second husband – the drummer Jimmy Cobb – is the only surviving member of the band that recorded the classic album Kind of Blue.
Eleana played a key role in helping Miles return to the music scene after his prolonged absence from the music scene, when in the winter of 1977, she took a sick and broken Miles out of New York to her home in Westport, Connecticut. During his stay with Eleana, Miles's health improved and his interest in making music was re-kindled and on 2 March 1978 Eleana took Miles back in the studio and with the help of Teo Macero recorded a (as yet unreleased) a track with a band that included guitarist Larry Coryell and drummer Al Foster. Also in the band were bassist TM Stevens, plus keyboardists George Pavlis and Masabumi Kikuchi. George Pavlis and TM Stevens talk about the session on this website. Eleana adds new information and another perspective to the session. In this exclusive interview with TheLastMiles.com, Eleana talks about that period and gives a close, personal view of Miles the man and the musician.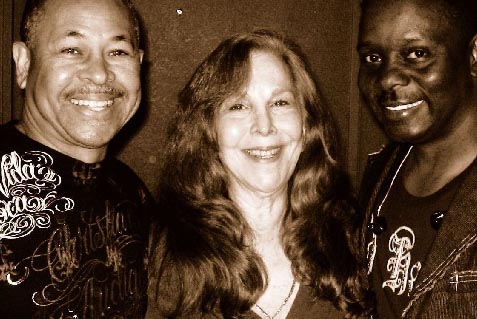 Eleana (Steinberg) Tee Cobb with Ralph Johnson and Philip Bailey of Earth, Wind And Fire
© and courtesy Eleana (Steinberg) Tee Cobb
TheLastMiles.com: Eleana, can you tell us a little about your background?
Eleana (Steinberg) Tee Cobb: I come from Connecticut. I come from a straight New England type background with a boarding school et cetera. My mother had a chauffeur (my father died in 1953) and I guess he got me into music. I was about ten. He'd take me to The Apollo [theatre in New York] as a kid. I thought of myself as an artist – I'd play a little piano. My mother died when I was twenty. The following winter, I met the saxophonist Dave Liebman in a club called Rapsons in Port Chester, NY and we were together for almost seven years. He introduced me to more music and musicians and he taught me mostly everything I know about music. One day, Miles called him – I remember David saying I don't want to talk to anyone who calls except Miles… David had just finished a three- year stint with the great [drummer] Elvin Jones and Miles happened to call the next morning and I picked up the phone.
TLM: What was your impression of Miles?
EST: Miles and I were like buddies – we were very good friends. He was a brilliant man. He was funny, kind, smart – he had a great sense of style. He was a teacher. He was one of the most creative men I'd ever met. I used to say he was like my mother. I was very close to Miles. We had a great relationship and he taught me a lot about music. He used to put me on the drums and give me a beat to play so he could write. So I'd be playing one lick over and over. We used to box in the morning….until he really started to sting! He was an amazing man. He had a great brain, he had a great wit; he was just a loving guy. He used to ask me to marry him and I'd say: "Get a grip." David and I broke up in 1976 and Miles stayed close during 1976 to 1979. Then we had a fight. It basically had to do with me producing him and Columbia having a nervous breakdown. This was after I had brought Miles in the studio.
TLM: You were around Miles when he dropped out of the music scene. Did Miles ever say why he stopped playing?
EST: Yes, he was tired. Remember he became a drug addict. You have no idea how the life of an American musician works. It's not a groovy life – it's a hard life, and Miles had been working since he was a kid. And he changed the face of American music every decade. But he was also living in America which was a racist place and he had to fight to keep his music going. He had to fight. If he was Leonard Bernstein he wouldn't have had to fight at all. It always amazes me the controversy of why Miles tuned around [from the audience], because he was conducting his band just like Leonard Bernstein. If anyone with half a brain would look at him as a conductor, instead of thinking he was being arrogant and mean spirited with his back to the audience – it was absurd.
Just the fact that people said that was insulting. Every great conductor in the world turns around and nobody says anything. Racism is a huge thing. Musically, he was a brilliant, wonderful, incredibly searching musician. He was searching for a sound – he would listen to Stravinsky. He was an unusual cat. He was a great musician and I don't think he ever got the respect he deserved until his death. He became sick and the world helped to make him that way, because it's not easy being a genius and have everything, and still be treated like you're an underclass citizen. Miles grew up with an educated and well defined family. He did not grow up poor. His mother was a great beauty and his father an educated man, a dentist, and Miles was a talented, handsome kid. Then he came to New York and met Charlie Parker, and the beat goes on from there.
TLM: In his autobiography, Miles paints a dark picture of this period, with him basically sitting in the dark all day and the house in disarray with dishes piled up. Author Eric Nisenson, who stayed around Miles for some of this period, says the same.
EST: This happened before I got to him. This was just a few months in his life, not years – he was not in the dark for five years. I introduced him to Eric Nisenson and I regret that I did, because he took advantage of Miles. It happened through coke, because both of them did coke.
TLM: The story goes that Julie Coryell (wife of guitarist Larry Coryell), persuaded Miles to leave New York and recuperate in Connecticut.
EST: That's not how it happened – Julie and Larry didn't know Miles from Adam before me. I was helping Julie write a book jazz rock fusion and obtained an interview for her with Miles. Miles didn't want Julie to have the interview for less than eight thousand dollars – I gave it to her for nothing. Miles was very annoyed at me. The truth is that Miles was reclusive and very sick and when I went over to his home one day, he was freezing – the heating was off. Miles was famous for having cheques all over the house and never cashing them. He was out of it; very sick and very weak. So I took him home and he stayed with me for the next three months; bringing him back to music, making him healthy and feel good. When he felt good enough we started writing together and that's when he'd put me on the drums. If I hadn't got him out of New York, he would never have made it to the 80s.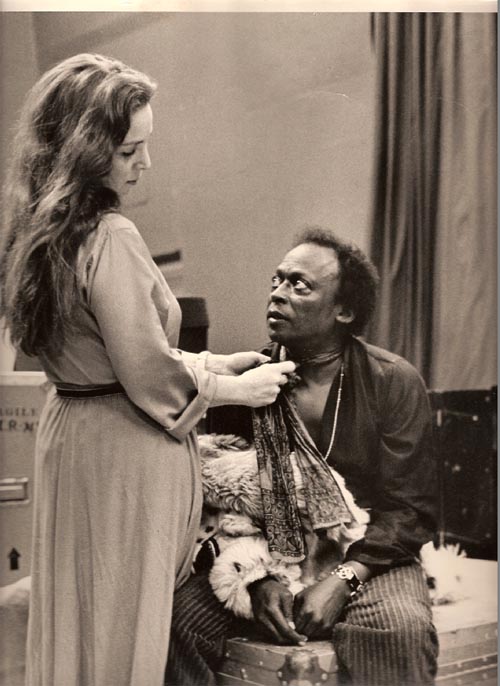 Miles and Eleana © and courtesy Eleana (Steinberg) Tee Cobb
TLM: Can you describe a typical day living with Miles Davis?
EST: Miles started watching chipmunks because he was in the country – this was very different from an urban environment. . I would feed him, we would cook (he taught me how to make paella). We would sit on the lawn – he lived a normal life of somebody who wasn't playing music. But I had a big studio on the property. I had a Steinway Grand, drums, etcetera. So we would fool around. I remember the first time he sat down at the piano after he had come out of the city. He put his finger on – maybe a D – and let it resonate. One note – that's how he started to play. I'm sitting there thinking: "This is Miles Davis?" I wrote with [pianist] Bill Evans – I was a lyricist. Bill used to come to my house every day and play. – Miles was looking for the sound. He would start with one note and then he went like a half-step up. I learnt that from him – how to look for the music, because sometimes, you have to search and listen for the music. That's what I got from him. I was so lucky to be there.
TLM: Miles met guitarist Barry Finnerty whilst staying at your home.
EST: I introduced Barry Finnerty to him. We were both from Connecticut. Barry's a great guy, a great player and Miles loved him.
TLM: How did Miles start getting back into the music?
EST: What happened was that we did a tune together and I said: "let's go in the studio and record it."
TLM: How did Larry Coryell and the others get involved?
EST: Julie Coryell was my closest friend. I said: "Let's call Larry", so I introduced them. It's what I do – I put musicians together. Miles used to call Larry "Notes Anonymous [meaning he played too many notes]", so that meeting wouldn't have happened in a million years without my calling Larry in. Al Foster is my brother-in-law, and I called him. I called [keyboardist] George (Pavlis) basically for his equipment, (although I love the way George plays) because I knew Miles didn't want to play trumpet, and he was all excited with the new music and he wanted to use synthesisers. George brought over the keyboards and Miles started playing and started creating. Then we started rehearsing.
1978 session with Eleana and Miles
© Columbia Records/Sony Music, courtesy Eleana (Steinberg) Tee Cobb
TLM: What were the rehearsals like?
EST: They were terrific. The studio was a basic square modern structure with a window wall – we were in the country. It had a huge room with a grand piano and Oriental rug and it was very lovely. We had a cassette [recorder] set up. Miles started with the drums and then Larry would start and they would play in the afternoon. Miles was starting to get excited but he didn't want to play any trumpet – he was tired. I called Don Elliot in Westport – he was a trumpet player who had a studio – but he wanted all the money for recording up front…very funny. So Miles called [his producer] Teo [Macero] and asked him to book CBS. That of course, happened instantly. Miles would record and Teo would do the mixes – he was like a musician. All those records – [In A ] Silent Way – that was Teo.
TLM: What do you recall about the 2 March 1978 sessions, when Miles went back into the studio?
EST: [Columbia executive vice president] George Butler was furious because Miles was supposed to come out of hiding and be produced by Columbia. That's when we had a horrible fight and so Miles and I split up after that.
TLM: George Pavlis says the tune Miles recorded was called "Amanaura."
EST: "Amanaura" was the working title – that was my idea. Miles changed it to "Miss Last Summer" – it was a play on words. That's what was copyrighted.
I remember Miles told Larry to take it, but Larry's company didn't want it, so it was never put out.
TLM: Weren't there plans to do more sessions?
EST: I remember I had to coax Miles to play – it took a while. He was happy but he was exhausted. It was like a beginning. He should have been in the studio for the next three months – that's I wanted to do. I tried to do that but then George Butler started getting funny with the money.
TLM: What did you think of the music Miles made in his comeback years?
EST: I loved that music. Miles Davis created the music and he wanted to get to where he was. "Time After Time", "Tutu" – I loved all of that stuff. Every time you put on a Miles Davis record you're always in some kind of great place. That's what he did with music; he was unforgettable.
Many thanks to Eleana for sharing her memories of Miles.
Find out more at www.richardtee.com and www.jimmycobb.net